MEE Achieves Athena Swan Bronze Award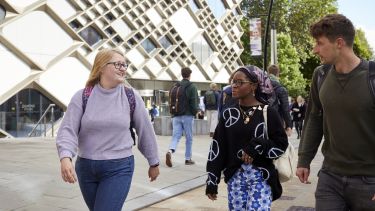 Off
In August 2022, we were awarded an Athena Swan bronze award in recognition of our gender equality initiatives and good working practices. The assessment panel commended the strong evidence we provided from our culture surveys showing that our staff feel included and their contributions are valued, as well as the 75% response rate. For the last 3 years, over 92% of our staff that responded agreed or strongly agreed that their contributions are valued, including 100% of female respondents. 
We were praised for the excellent financial support that we provide for staff training and development. A large proportion of our team (44%) including our female members (42%) have achieved academic qualifications and/or professional recognition resulting in appointments to higher grade positions. 
This feedback is particularly pleasing as back in 2015 when MEE was established, our ambition was to create a culture whereby every member of the team feels included and has opportunities to develop their professional skills. It was also important that we applied for the award because of the initiatives we put in place rather than changing our policies and procedures for the Athena SWAN application.
Our teaching team includes Graduate Teaching Assistants (GTAs) that work with us and our GTAs were involved in the discussions around gender equality. We explored whether there were any barriers that would prevent female GTAs from applying to work as we acknowledged that there was a larger proportion of male (75%) than female (25%) GTAs that applied. GTAs worked with our Engineering-GTA admin team to organise networking events and update the recruitment website, including a statement of our commitment to gender equality and inclusivity, gender neutral language and additional information about the role.  
Our ED&I committee has also achieved the following:

Led on making Unconscious Bias training mandatory for GTAs in the faculty so that they are provided with the same training as engineering staff.
Organised open day events for recruiting GTAs so the PhD students expressing interest can meet staff and see the lab environment in which they would work before applying. 
Made selecting female GTAs easier by adding their title to the recruitment pool spreadsheet.
Offered free T-shirts with our department logo for GTAs to wear while teaching in MEE so that they feel part of the team.
To ensure equity and fairness, we have created a new sickness policy and procedure for GTAs informing us that they are unable to work due to illness but ensuring that they are still paid for work they have accepted. The procedure mirrors the contracted staff approach for a different group of employees.
We have made improvements to our recruitment process to encourage a greater diversity of applicants. Over the last 3 years we have increased the proportion of females from 24% to 32%, including 4 additional female members (2 academic staff) to the MEE team in 2022.
A global reputation
Sheffield is a research university with a global reputation for excellence. We're a member of the Russell Group: one of the 24 leading UK universities for research and teaching.