Research Associate in Diversity and Inclusion in Engineering Education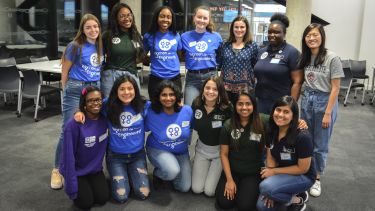 Fixed-term until 31 July 2023
Faculty of Engineering
Grade 7
£32,344 - £40,927 per annum, with potential to progress to £44,706 per annum
This role closes on the 13 April 2022
Are you interested in working for a world top 100 university? In a research project that has the potential to transform the early careers of our underrepresented or minoritized students?
We are working on an impactful, fast-paced and exciting project (Diversity Confidence in Engineering (DiCE) to put in place several interventions across the whole student lifecycle that will help us to prepare diversity-confident graduates who have the confidence to contribute, question norms and take a proactive approach to inclusion. The transformations in the three work packages within this programme, which is funded by Royal Academy of Engineering, will drive students' confidence, improve team working and inclusion skills whilst focusing students on a commitment to engineering for the public good, delivering value and preserving health to people and the environment. We aim to measure the impact of these interventions and provide a package of resources for the wider Higher Education sector.
We are seeking candidates with a PhD in an area of science, technology, engineering and mathematics (STEM) and a commitment to equality, diversity and inclusion principles and associated rights, needs and interests of groups currently underrepresented or minoritized in engineering education.
In this varied and dynamic role, you will be responsible for delivery and evaluation of a range of interventions across all of our departments in the Faculty of Engineering. Working alongside a collaborative and interdisciplinary team of educators and students, the role will offer you an opportunity to make a real impact in the way that we prepare students for group work, develop diversity-confidence in the academic community and develop an inclusive student development journey that will support students transitioning to graduate Engineer. To achieve our vision, you will have the ability to work effectively with both internal colleagues and students as well as external collaborators.
This role will also offer you an opportunity to further your knowledge of engineering education, particularly around group work design and assessment as well developing your public engagement and project management skills.
This project is supported by the Royal Academy of Engineering under the Diversity Impact Programme - round 1 (Yr 21-22) programme.
We are committed to enabling our employees to work in a hybrid model with flexibility over when, where and how to achieve the required outputs, in discussion with your manager. We are committed to exploring flexible working opportunities which benefit the individual and University and we will consider applications for part time roles.
Find out more and apply for RA in ED&I in Engineering Education.