If you haven't taken A Level Physics but want to study Mechanical or General Engineering - our Pathway is for you.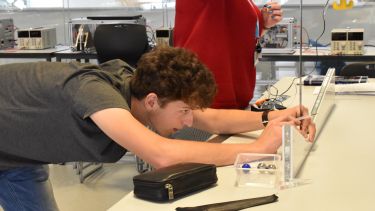 What is the Pathway to Engineering?
It is a course designed for those who want to study Mechanical or General Engineering but did not take physics at A Level and are expecting to obtain grade A or above in Maths at A Level.
The course will allow you to gain access to Mechanical Engineering and General Engineering without the need to do a Foundation Year.
Who is it for?
The pathway is for Home and EU students taking A Levels or equivalent. 
What to expect
You will spend three weeks before the start of your degree course receiving physics tutoring through teaching with a combination of presentations, tutorials and 1-1 support.
Full confirmed details will be shared ahead of the start date in September 2022.
The pathway for our 2022 undergraduate courses will be delivered through a blended approach of online and face-to-face teaching in our state of the art Diamond facility, where you'll combine small group classroom teaching with exciting laboratory sessions.
What it's not
This is not an extra exam or module you have to pass to progress to the full degree course. This is purely a stepping-stone to give you the skills you'll need to excel in your course.
Fees
Because we want to open up engineering to as many students as possible the teaching on this course is free. 
Apply
For Mechanical Engineering contact the admissions team at: admit.mech@sheffield.ac.uk
For General Engineering contact the admissions team at:
gen-eng-admissions@sheffield.ac.uk
Explore the University
Discover what sets Sheffield apart at our next on-campus open day.