Yorkshire Year in Industry Event 2022
Are you a local business who would be in a position to offer a year in industry and/or summer internship, specifically for engineering students starting in summer 2022? If so, our Yorkshire Year in Industry networking event could be the perfect option for you!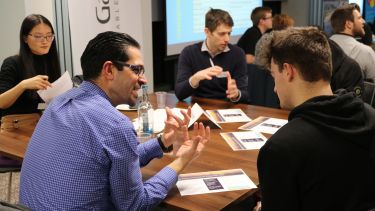 Yorkshire Year in Industry, is an event which has been successfully delivered over the past five years, and focuses on linking companies from the local region, with engineering and IT students from the Faculty of Engineering at the University of Sheffield.
Students from across the faculty come to talk to companies which, in past years, have included Amey Consulting, Grobotics, Excel Parking Services, HP Consulting and South Yorkshire Passenger Transport Executive.
For our event next year we are looking for companies who would like the opportunity to pitch about what you do and the opportunities you have for our engineering students. Our students will also have the opportunity to speak to you on a 1-1 basis to find out more. 
Our Yorkshire Year in Industry event is well received by employers and 3Squared, who attended our February 2021 virtual event said: "I managed to speak to quite a few students and we've had a flurry of applications last night which is brilliant!"
Our next Yorkshire Year in Industry event will be hosted virtually, via Zoom, on Wednesday 9th February 2022, from 3pm to 5:30pm.  
The day will be split into two x 1-hour sessions according to your targeted engineering specialism, and we will confirm which hour you will be assigned to at a later date.
We hope to hear from you soon!