Ashley Bullen-Cutting
Teaching Associate in Creative Writing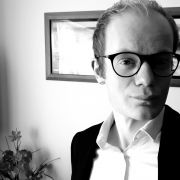 Profile

I am a Teaching Associate for Creative Writing at the University of Sheffield's School of English, specialising in fiction and hybrid writing. I recently completed my Creative Writing PhD at the University of Sheffield under the stewardship of Agnes Lehoczky and John Miller. Before that, I received my MA in English Literature: Creative Writing at the University of Sheffield in 2017 and my BA (Hons) in Creative Writing in 2016 at London South Bank University. I am a practicing writer with countless publications both here and abroad. My first creative pamphlet, Waterworks, is due out in mid-2022 from Beir Bua Press and was the winner of the Laurence Sterne Prize 2021. I am also the Fiction Editor of Route 57.
Research interests

My research and writing primarily focuses on speculative fiction and experimental writing, hydrofictions and blue discourse, writing the Anthropocene and the environmental humanities, and, universally, contemporary literature (prose and poetry). I am particularly interested in the meeting ground of radical and avant-garde prose and poetry (in form and style) when it comes to exploring difficult subject matters, such as the climate crisis and trauma.

In my current role, I am now exploring Destruction as a writing strategy and form, looking at B. S. Johnson's The Unfortunates, Italo Calvino's If on a winter's night a traveller, and the archival works of Walter Benjamin and Kenneth Goldsmith to essay the potentialities of broken, shared, and uncreative writing.


During the Great Lockdown of 2020, I helped to organise the ASLE-UKI 'Out of the Blue' Postgraduate Conference, serving as a committee member, speaker, and website designer.