Dr Beryl Pong
School of English
Vice-Chancellor's Fellow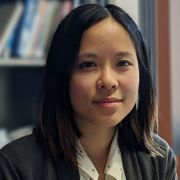 Profile

I joined the School of English as a Vice-Chancellor's Fellow in 2016. Previously, I was a Research Fellow at Jesus College, University of Cambridge (2014-2016), and before that, a Social Sciences and Humanities Research Council Postdoctoral Fellow at the University of Toronto (2014). I was also a Scholar in Residence at Bader International Study Centre, Herstmonceux Castle during my PhD (2013).

I am a commissioning editor for the 'Modernist Geographies' section of Literature Compass. I obtained my PhD at the University of Cambridge, my M.Sc at the University of Edinburgh, and my B.A. Honours at Queen's University.

I am the Sheffield lead supervisor on the White Rose College of Arts & Humanities (WRoCAH) network 'Electronic Soundscapes' (2018-2021).
Research interests

My overall research interests are 20th- and 21st-century Anglophone literature, with especial focus on British modernism and late modernism, and war. My work is informed by cultural studies and cultural history, and I have an abiding interest in narrative and genre studies, and in the interdisciplinary intersections between literature and other media.

I am currently completing my first book, a literary-cultural study titled For the Duration: British Literature and Culture in Wartime. It argues that spatial and temporal dislocation were defining characteristics of the World War II urban bombing campaigns, and it shows how figures in literature, film, photography, and painting harnessed or exploited their media's distinctive temporal properties in response.

Showing why the war was often fashioned as a memory, even while it was taking place, I discuss how the uses of modernism became as important as modernism itself, and how wartime forms of temporal re-imagining—whether through time capsules, time zone changes, or images of ruin and repair—have particular salience for understanding philosophies and phenomenologies of time during the mid-century.

I am also in the early stages of a second book project, tentatively titled Framing Displacement: Semicolonialism and Women's Short Fiction. The project explores the way material, effective, and socio-political interrelations between colonizer, colonized, and the postcolonial are addressed by modern and contemporary transnational women writers.

Among other points, it demonstrates why, for formal as well as material and print-cultural reasons, short fiction is a prominent genre for indexing the gendered histories of labour migration, emigration, and travel, and why we need to go beyond ideas of regional or national exceptionalism in short fiction literary history to understand it as a 'world genre'.
Publications

Books

Journal articles

Chapters

Book reviews

Exhibitions

Dictionary/encyclopaedia entries
Research group

I would be pleased to work with research students interested in 20th- and 21st-century British and global Anglophone literatures, particularly in projects related to modernism, war, technology, genre studies, cultural history, and literary historiography more generally.

I am currently supervising a PhD dissertation on First World War soldiers' songs in European anti-war theatre as part of the White Rose network, 'Electronic Soundscapes'.
Teaching activities

I teach on the following modules:

Undergraduate:

LIT302 Modern Literature
LIT303 Contemporary Literature
LIT386 Undergraduate Dissertation

Postgraduate:

LIT650 Midcentury Modernism

I also convene the School of English's two MA work placement modules, EGH623 (Work Placement with Research Essay) and EGH6025 (Language and Literature in the Workplace).