Dr Florence Hazrat
Leverhulme Early Career Fellow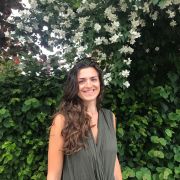 f.hazrat@sheffield.ac.uk
Jessop West
Full contact details
Dr Florence Hazrat
School of English
Jessop West
1 Upper Hanover Street
Sheffield
S3 7RA

Profile

I joined the School of English as a Leverhulme Early Career Fellow in 2019. Previously, I was a postdoc at the University of Geneva, working on versions of Shakespeare plays in early modern Germany. I received my PhD in 2016 from the University of St Andrews, and before that did an M.Phil. and BA in English literature at the University of Cambridge. I am also an editor of and writer for an online platform for women's writing called Lucy Writers .
Research interests

My research interests lie in literary form and rhetoric, particularly of early modern literature. My doctoral thesis was on the refrain in music and literature of the sixteenth century, and examined the mnemonic and compositional functions of repeated lines in the cultural productions of three socio-literary environments, including oral traditions, the court of Henry VIII, and the Shakespearean stage. I have published on Shakespeare's uses of music in the creation of community, and Thomas Wyatt's manipulation of song forms. 

During my postdoc at the University of Geneva, I worked in a collaborative project on early modern German versions of Shakespeare plays. I translated a German adaptation of The Taming of the Shrew from 1672 into English, and closely compared the later version with its Shakespearean original, providing a detailed annotation, a critical introduction of the history of shrew plays on the continent, and an analysis of the relationship between the English and the German play. The edition will be published in the Arden Shakespeare series, entitled An Art beyond All Arts, to Make a Bad Wife Good.

I am examining brackets (or parentheses) in early modern romance. My project investigates what it means to read the typographical sign as well as broader senses of narrative insertion and digression, covering romances in prose, poetry, and drama. I am currently writing a book on punctuation in literature and culture for Reaktion Books, London.
Publications

Journal articles

Chapters