Dr Gabriel Ozon
Teaching Fellow in Applied Linguistics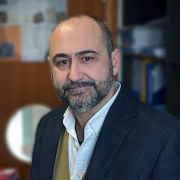 Profile

I joined the School of English in 2013, having worked previously at the University of Sussex, Queen Mary University of London, and University College London (where I completed my PhD research).

I work on morpho-syntactic variation in World Englishes, looking at the impact of the sociolinguistic context on formal structures. My current research interests include (i) verbal complementation (light verb constructions and serial verb constructions) in World Englishes, (ii) grammaticalisation, (iii) contact-induced language change, and (iv) Englishes in Europe.
Research interests

Both my teaching and my research have engendered a keen interest in linguistic variation, a significant influence in my current projects. My interest in language favours the application of quantitative (corpus linguistics) techniques in order to extract patterns and conditions of use from authentic data. I am interested in working with issues where theoretical claims can be tested by empirical evidence, and I favour the use of corpus linguistics methods. My research looks into the sociolinguistics of grammar, i.e. how and to what extent the wider (sociolinguistic) context of language use impinges on formal grammatical structures.

For the past 5 years, I have been working on Cameroon Pidgin English (CPE), a typical Atlantic pidgin/creole language in that it has a European colonial language as one of its ancestors, but also has characteristics of West African languages. Along with Melanie Green (Sussex) and Miriam Ayafor (Yaounde I), we built a pilot corpus of Cameroon Pidgin English (CPE), which was supported by a British Academy/Leverhulme Grant. The corpus is freely available for download.

I have written extensively (see 'Publications' tab) using data from our CPE corpus. Additionally, the CPE pilot project provides the foundation for a 2019 AHRC Global Challenges application to build a one-million-word corpus of CPE.

My current projects involve:

Light verb constructions in the contact continuum: research monograph proposal for the Studies in English Language series of Cambridge University Press.
Codeswitching/Translanguaging in Cameroon Pidgin English: After publishing extensively about the formal structure of CPE, it became apparent that many research results required a social explanation. This project looks at integrating the collected metadata with the corpus search tools, which in turn allows research into both structural and social variables.

I am a member of the British Association for Applied Linguistics, the Philological Society, Societas Linguistica Europaea, and the South East European Research Centre.
Publications

Books

Journal articles

Chapters

Book reviews

Conference proceedings papers

Datasets
Research group

I am currently supervising a number of research projects looking at topics such as grammaticalisation of intensifiers across varieties of English, error annotation in learner corpora, the effects of computer-mediated communication on language learning, and lexico-grammatical variation/change in popular music. I am happy to work in projects in any area of my research expertise (World Englishes (including ELF), grammatical variation, corpus-based approaches to linguistic research)
Teaching activities

I teach both on the BA in English Language and Linguistics, and on the MA in Applied Linguistics, on modules such as:

World Englishes
Using Corpora in Applied Linguistics
Patterns in Grammar
Varieties of English
Structure of English
English Grammar and Discourse
Sociolinguistics
Research Practice
Public engagements

I was invited (with my co-investigator/-author, Dr Melanie Green (Sussex)) to speak at a Symposium on Naija (the language that has developed in Nigeria out of Nigerian Pidgin), which took place in the Institute of African Studies, University of Ibadan, in late June 2019. The symposium was organised (and funded) by Institut Français de Recherche en Afrique (IFRA-Nigeria) and was the occasion to introduce NaijaSynCor, the recently launched corpus of Naija, which is built largely along the lines of our own CPE corpus, but makes use of a different suite of language software and multidisciplinary methods for the data analysis.

The symposium was attended by specialists of creoles and pidgins of various countries and institutions (Cameroon, Hong Kong, Nigeria, UK). The Symposium as a resounding success, and drew considerable attention and positive reactions, activated by the BBC News Pidgin Channel report (https://www.bbc.com/pidgin/tori-48928363). The participants of the symposium made plans for the future of Naija, including creating an on-line Encyclopaedic Grammar of Naija; and the creation of an association for the development and promotion of corpus of Pidgins and Creoles (The International Corpus of Pidgin and Creole Languages, ICPC). A report is available at www.ifra-nigeria.org/scientific-events/conferences/324-report-symposium-on-naija-institute-of-african-studies-ui-june-27-29-20 . Along with Dr Slavomir Čeplö (Vienna), I was invited to become a founding member of the association, which would involve coordinating joint funding bids for collecting corpora for the main Atlantic Creole varieties (Nigeria, Ghana, Cameroon, Sierra Leone, Jamaica). The intended corpora would be typological in design, aiming for comparability (e.g. what they have in common, what separates them). The data will be compiled, annotated and analysed following the same template, tools, procedures, and grammatical categories.

Along with my co-investigator, Dr Melanie Green (Sussex), I was invited to speak at the prestigious Philological Society (see below). The project generated considerable interest, and we obtained very valuable feedback for our grant application: A spoken corpus of Cameroon Pidgin English: compilation, applications, and prospectus. Philological Society, London (February 2019) https://blog.philsoc.org.uk/2019/01/25/a-spoken-corpus-of-cameroon-pidgin-english-compilation-applications-and-next-steps/