Dr. Iona C. Hine
School of English
Heinz Cassirer Research Associate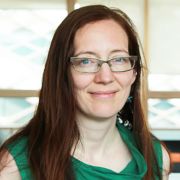 Profile

Having previously studied in Cambridge and Roehampton, I joined the University of Sheffield in 2009 to pursue doctoral research focused on interpretations of the book of Ruth. Alongside my research, I also coordinated a series of events to mark the 400th anniversary of the King James Bible.

I am currently a postdoctoral research associate in Sheffield Institute for Interdisciplinary Biblical Studies, where I am documenting the work of Heinz Cassirer (1903–1979), classicist, philosopher, and New Testament translator. I was previously lead research associate on the Linguistic DNA of Modern Western Thought (under Professor Susan Fitzmaurice, School of English) in the Humanities Research Institute, and have also worked as an Impact Officer with colleagues in the Urban Institute (as part of Realising Just Cities).


I retain connections with the University of Sheffield's Centre for Early Modern Studies, and the White Rose network on Luther as philosopher. I am co-founder of EMBERS, a network for scholars with an interest in early modern bibles and related subjects.
Research interests

My thesis, Englishing the Bible in Early Modern Europe: The case of Ruth, a study of ideological influences affecting the translation of the Bible into English (in comparison with contemporaneous European translations), was completed in 2014 (examined by Professor John Barton and Dr Richard Rex).

I have taken forward interests in early modern language, the philosophy of translation, and the reception of the Bible in English. My work remains strongly interdisciplinary, with input from digital humanities, translation studies, and historiography, as well as traditional biblical studies and linguistics.
Publications

Journal articles

Chapters
Teaching activities

Teaching

I contribute to LIT113 (Foundations in Literature).

I also supervise work placements for MA students with an interest in texts, language and digitisation (EGH6025/EGH623).

In 2016-2017, I worked with colleagues in four departments to develop an interdisciplinary MA module (IPA670: Interdisciplinary Early Modern Studies) which I then convened. 

In addition to the above, I have previously lectured and taught on undergraduate and postgraduate courses including: 

MA Word into Words (Bible Translation) 

MA Early Modern History: 'Language & Society' (EEBO and Digital Tools)

Level 1 Introduction to New Testament Greek.