Dr Laura Joyce
School of English
Lecturer in Creative Writing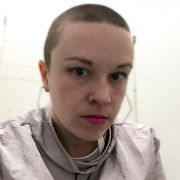 Profile

I joined the School of English as Lecturer in Fiction in September 2019. Previously I taught at Sussex University, York St. John, Edinburgh Napier, the University of East Anglia, and Coventry University. I completed my PhD in Creative and Critical Writing at Sussex University in 2015.  
Research interests

My current critical research focusses on death rituals, weird landscapes, and folk horror. I am co-investigator of a project on burial shrouds at Coffin Works museum that considers the symbiotic relation between bodies and landscapes.

My first novel The Museum of Atheism (Salt, 2012) was an experimental crime novel about a malevolent forest.

My doctoral research explored bioluminescence and crime scene investigations, and resulted in a prose poetry collection, The Luminol Reels (Calamari Archive, 2014), and a critical book, Luminol Theory (Punctum, 2017). 

I am also interested in experimental nonfictional, poetic, and hybrid writing, and in small press publishing. My own work has appeared in PLINTH, Entropy, Black Sun Lit, Tarpaulin Sky, and Egress. I have written reviews and essays about contemporary poetry, fiction, art, and hybrid writing from writers including Aase Berg, Lara Glenum, Sara Tuss Efrik, Olivia Cronk, James Pate, Siân Rathore, and Nathalie Djurberg for publications including Montevidayo, Entropy, and 3AM.

I am a member of the Hex collective with Jodie Kim, and during June 2019, we were guest editors of Burning House Press where we published experimental writing and art by artists including HyperVerses, M. R. Massey, Bobbi Lurie, Janice Kang, Joyelle McSweeney, Leif Holmstrand, and Jenna Vélez. We are also working on a hybrid work of critical, creative, and found material titled Letters to Our Daughters Who May Never Be Born.

My current novel, Blood Forest, is about poisonous plants, adolescent girls, and death rituals. Blood Forest has received a Hosking House Fellowship, and a K. Blundell Trust Award.

I am general editor, alongside Vera Fibisan, of Route 57. 
Publications

Books

Journal articles

Chapters
Teaching activities

I teach on the following modules:

LIT273 Writing Fiction 2: Genre and Experiment

LIT3015 Writing Fiction 3: Ritual and Writing

LIT6041 MA Fiction 1: Bodies and Landscapes

LIT6042 MA Fiction 2: Transformations