Dr Rachel Murray
School of English
Leverhulme Fellow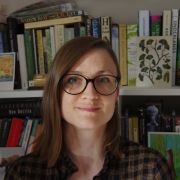 Profile

 I am a Leverhulme Early Career Fellow based in the School of English. Before coming to Sheffield in 2020, I was a Doctoral Prize Fellow at Loughborough University. I completed my AHRC-funded PhD at the University of Bristol in 2018. I received my MA in Modern and Contemporary Literature from the University of Sussex and my BA in English from the University of Cambridge.
Research interests

My primary research interests lie in modernism, literature and science, and animal studies. My first monograph, The Modernist Exoskeleton: Insects, War, Literary Form (Edinburgh, 2020) demonstrates the importance of insects to modernism's aesthetic innovations. Focusing on the writing of Wyndham Lewis, D. H. Lawrence, H.D., and Samuel Beckett, it argues that the idea of the insect can offer key insights into modernism's experimentation with language and literary form, its engagement with contemporary socio-political concerns, as well as its questioning of the boundaries of the human. 

My current research project, Strange Attachments, examines the presence of marine life in modern and contemporary literature. Identifying a recurrent fascination with creatures that grip or cling onto their surroundings, I will consider what the idea of attachment – approached from various disciplinary angles – can bring to existing readings of the sea, as well as to environmental thought.

I have published articles on a range of authors and topics, including on James Joyce and apiculture, larval forms in Samuel Beckett, and the aesthetics of indigestion in Wyndham Lewis. I am currently co-editing a special issue of Modernism/modernity (with Caroline Hovanec) entitled 'Reading Modernism in the Sixth Extinction'. I am also the Early Career Officer for the British Society for Literature and Science.
Publications