Emma Le Vine on why she chose Sheffield for her PhD
Emma completed her BA and MA at Sheffield before returning for her PhD. Her research focuses on the different uses of language by political parties during the 2015 General Election campaign, an interest she first developed whilst studying for her MA.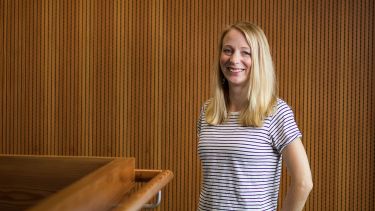 Why did you choose to study in Sheffield?
In addition to the department having a really good ranking, when I first arrived in Sheffield, it felt like a diverse, vibrant and exciting city. There were loads of activities happening around the university concourse and a real buzz around the uni and the city.
What made the University of Sheffield stand out for you?
The level of support that the University offers students is excellent. This is the case at all levels, from the dedicated student services team to the administrative staff, and includes tutors too - even those who have never taught me have been on hand to answer questions or offer support.
I've always experienced a real understanding that different students study differently and bring different life experiences and backgrounds to their studies. There's also really good provision for developing academic, maths and statistics skills, too.
What do you particularly enjoy about English?
It's diversity. I find myself having conversations with political analysts, literature scholars, sociologists, psychologists, and my studying over the years has taken me from investigating the etymology of swear words to modules on Shakespeare to developing my practice as a teacher, to my current analysis of political language. The courses are structured in such a way that they allow for a huge range of interests and study activities.
What are you currently researching?
I'm currently researching the ways in which different political parties used language in the General Election campaign of 2015, focusing on UKIP. This follows on from some modules I took as part of my MA and develops themes I started looking at with my MA dissertation.
How did the School of English help support you through the whole process from application to settling in?
The support I've received has been great. I originally applied to do a different MA, but the academic team reviewed my application and recommended, based on my experience, that the MA in Applied Linguistics with TESOL might be better - and they were right. So from the start, this really showed a high level of involvement with individual candidates.
Sheffield is a diverse, vibrant city where you can always find something fun, unusual or quirky going on!

Emma Le Vine
The whole team was really supportive when I was doing the MA full time and working part-time and really made an effort to accommodate my busy schedule: the tutors and the administrators get to know each person's particular circumstances. When I was applying for my PhD I again received a lot of individual support from the whole team.
What are your top tips for any students thinking about studying English in Sheffield?
Make the most of your tutors and supervisors - use their office hours, and find out about different research interests and expertise across the department. 
Go through your feedback - it sounds obvious but a lot of students tend to just look at the grade. Spend time going through feedback and involve your tutors if necessary. 
Make the most of university services - including those found at the library, academic skills support at 301, go to talks, university conferences and reading groups. It will help build a network of support and also widen your perspectives.
What is your highlight of studying and/or living in Sheffield so far?
I definitely think that completing my MA was a real achievement. I had been out of formal education for a few years and had, in addition, a really demanding schedule for the year that I studied on the course.
Tell us about being a postgraduate in the department.
One of the draws of PhD study at Sheffield is that you are assigned a desk, so can develop a good workspace and network of colleagues. There are also a range of activities and support networks for postgrad students.
What's the most interesting thing you've done, seen or got involved with while at Sheffield?
Sheffield is a great city for a whole range of interests. Mine have evolved during the time I've been here, so as an undergraduate I was impressed by the range of different social activities on offer from bars, pubs and clubs to societies and organisations. These days, I really enjoy running and cycling up the many hills here, and events like the Yorkshire half marathon are great.
There are also a lot of really interesting voluntary organisations to get involved in, and I currently volunteer with Assist, a Sheffield charity for vulnerable asylum seekers. I couldn't necessarily pinpoint the most interesting thing I've done or seen though - because there's so much to see and do!
What one thing do you now know that you didn't know before uni?
I think before I came to uni I hadn't realised the importance of study skills to being a successful student and how they are transferable to work outside of studies, too. The university is great in this respect: there is a dedicated space and teams for developing academic, maths and statistics skills outside of your course.
---
Study at Sheffield