Aiming high with a new carbon reducing business opportunity
Drawn to the great vibe of Sheffield people, to spotting business opportunities, hear what Laurence Collingwood, founder of award-winning app, Cilo Innovations has to say about his entrepreneurial journey.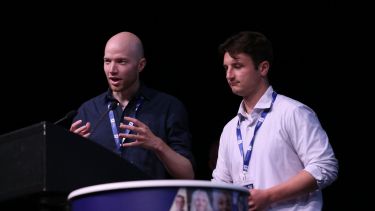 Laurence, thanks for taking the time to share about your journey.  Firstly, can you share a little bit about yourself
Yeah sure, I came to study mechanical engineering and chose Sheffield because I got a great vibe from the people I met on my open day.  I'd also heard good things about the engineering department. The fact that it was a beautiful autumn day when I visited probably helped sway my decision too!
I tried a few extra-curricular things (the ski trip was a real highlight) but most of my time was spent hanging out with friends or working in the Diamond or both. Oh and I was able to do my third year in Canada! An amazing experience. Definitely the best few years of my life so far.
Wow, spending time in Canada sounds fantastic!  But lets, talk about entrepreneurship.  What does this mean to you as it can be very different for everyone?
As with most things in life, I realise now that entrepreneurship is basically just constant problem-solving. Issues and opportunities arise and you deal with them as quickly as you can in what you hope is the correct order. You've got to keep an eye on the bigger picture, but breaking everything down into small, manageable tasks helps you stay motivated and keeps the business moving towards its goals. Or at least it does for me! 
---
I have learned a ton from this experience that I will be able to apply going forwards

Valuable learning

Laurence Collingwood
---
A fascinating insight as problem-solving is very much a part of being enterprising.  Would you therefore call yourself an entrepreneur?
I would, but not in any deeper sense than a job title. I started my business, Cilo, because I saw an opportunity and thought there was a chance I could make a success of it. But starting a business hasn't been some lifelong ambition of mine. If, when, and in whatever circumstances I do eventually move on from Cilo, I have no idea if I'll want to start another business. But whatever I do in the future, I have learned a ton from this experience that I will be able to apply going forwards.
As every entrepreneur's journey is different, it would be great to hear yours and how you first started Cilo.
It's simple really. I knew that everything I bought had a carbon cost as well as a financial one. I wanted a tool that would show me the carbon cost of the products I was buying and track my carbon spending over time so that I could find ways to reduce my impact with the least effort and cost possible. No such tool existed, so I decided to build one! I designed the app with the spare time I had during the first lockdown and, having done some market research and discussed the idea with people I trusted, decided to use some savings I had to quit my job as an engineer and work on the business full-time.
---
Try and think about the idea as critically as possible

Getting started with your idea

Laurence Collingwood
---
A very bold and courageous move!  Knowing what you do now, is there any specific advice you would give to other students looking to start their venture?
Talk to people who you trust to give you honest advice. Try and think about the idea as critically as possible. Why would it fail? If you have any spare money to spend on the project, spend it on market research first. After that, if you're still passionate about the idea, go for it - even if you think the chances of success are small. The chances of any business being a success are small. But you'll learn so much in the process, regardless of the outcome. And being truly passionate about work is quite a rare thing so it's worth taking a risk for!
Some great advice to critically appraise an idea and carry out thorough market research.  Initially, what challenges did you come up against?  How did you navigate around these?
I was too focused in the early days on the idea and what I needed from other people to make it happen. Money from investors. Coding from a software wiz. If you're a first-time founder without much professional experience like I was, you're going to need to prove to people that you're capable of building something yourself and committed enough to do so. After a few months I realised I was going to have to learn to code and build the app myself. I did this and that's the thing that's opened doors for me since. Anyone can have an idea. People are much more impressed by execution.
---
we'd love someone to help us out with our instagram and social media posts

Laurence Collingwood
---
So what stage would you say Cilo is now at?
Still early stage! We've had some real successes (releasing the App Store in August to very positive reviews, winning national competitions which have secured us over £20k in grant funding, securing partnerships with two major global businesses to trial our new corporate service) but we've also got a long way to go. Be prepared that success is a long and difficult ride unless you're very lucky. I haven't taken a proper salary in over two years. But the journey is extremely rewarding if you're up for it.
It's encouraging to hear you find the journey very rewarding.  I hope that continues!  Think back though, is there anything you wish you had done when starting out?
1.) Find a way to make yourself accountable. Try and find an advisor, even if it's just a family member at first, and send them monthly updates on what you've achieved and what you plan to achieve in the next month. For yourself, set even shorter-term goals - week by week, day by day.
2.) Make time for the tasks you enjoy. For me that turned out to be coding the app. If you have a build up of tasks that you don't enjoy that can very quickly become demotivating. I save my coding for the afternoon and that helps me stay motivated through the early part of the day doing less fulfilling tasks.
3.) Don't forget to smell the roses! Things can get pretty overwhelming and stressful trying to run your own business. As often as possible try and take a step back and appreciate the things that are cool about what you're doing. Be proud of and celebrate the achievements you do have. Visualise the thing you want to create and remember the reasons you wanted to create it. You have to actively do all this or you can very easily get lost in the daily grind!
Wise words.  What's next for you and CIlo then?
We're gearing up for our corporate trials which begin in the new year. That means making some improvements to the app. After that, it's about trying to turn those trialists into revenue generating customers and using that as a platform to secure seed investment.
Before we go, is there a 'big ask' you'd like to share with our community?
Absolutely, if anyone is a keen social media user we'd love someone to help us out with our Instagram and social media posts. Beyond that though, we love getting feedback so please download the app, give it a go, and let us know what you think!
Our website is https://www.cilo.uk or if anyone has any questions feel free to reach out and connect with me on LinkedIn. I'd be more than happy to chat.
Such a great business and a very humble guy.  Thank you for your time Laurence and we look forward to hearing more success stories soon!
Stay connected with your University
Experience all the benefits and services that come from being a Sheffield graduate.