Helping students reach their potential
A law student that fell in love with Sheffield and launched a successful tutoring business.  Read what Scott Gladwood had to say about his journey when we caught up recently!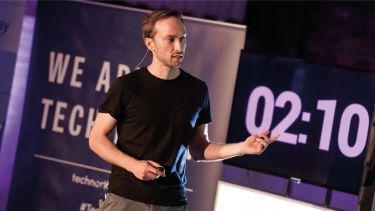 Our team recently met with Scott to hear about his experience of starting a business, learn from his journey and get inspired by where he sees the future for the University of Sheffield, but in particular for students that want to solve real-world problems!  Here's what he said.  
Scott, it's great to meet.  Can you share a little bit about yourself 
I came to the University of Sheffield to study Law (and, as it turned out, to play a lot of football). It's fair to say that was a few years ago now, but, after falling in love with both the city and my now wife, have stayed on to now start a family here.
It's fantastic how the University campus is embedded within the city itself. That, and the warmth of the people here, means you immediately feel a part of the wider community and at home. Nowadays, I've swapped the nightlife for the Peaks - which are much more amenable to kids!
Wow, that's great, Sheffield sure is a great place to live!  So, lets talk about entrepreneurship and enterprise, as these can mean different things to different people. Looking back, what was your perception of entrepreneurship before you started on your journey? Has this view changed now? If so, how?
Great question!
I'm sure that, like many young people, I had preconceptions of those words as being related to corporate institutions full of men in suits and ties, financials and boring meetings.
Fortunately, I've had the chance to see past that, and realise that it doesn't have to be like that at all! The way I now think about entrepreneurship (or enterprise) makes me think of problem-solving and the freedom to move quickly to bring about change. Setting up a startup feels to me more like playing a real-life board game - it's a fun challenge.
Fascinating, so do you identify as an entrepreneur or not? 
I've always felt that calling myself an 'Entrepreneur' would somehow mean claiming some kind of success, so it's never a title I've used.
Can you expand on this further?
I'd certainly say that I've always been enterprising and entrepreneurial though. I think that speaks more about a mindset - one which means you want to improve things and seek out ways of doing so. That's a trait it feels like I've always had, and probably annoyed people with, as I seem to continually point out ways things could be done differently.
---
The key thing is working out exactly who are the people experiencing the problem you're trying to solve

Getting started with your idea

Scott Gladwood
---
Every business and founder is different, consequently, every journey will vary too. Can you first share the story of how you started your business? What led you to your idea and how did you first get started?
I was a Primary School Teacher and kept being asked to recommend tutors to parents of the children I taught (hopefully that wasn't a comment on my teaching!) but didn't know where to look. I ended up taking on tutees myself and quickly became inundated with requests. I left teaching to become a full-time tutor and started testing whether I could match students with other tutors I trusted.
It turned out that I could, so I spoke to a long-time friend, Mark, was working as a Technology Analyst for a large investment fund, and we decided to set up an online marketplace to help make those matches digitally.
That was the start of Tutorful.
Many students that our team connects with are still trying to find their own idea to work on. What advice would you give to those students? How should they decide if their idea is a good one?
The advice I give any budding entrepreneurs is not to start from the point of seeking to make money, but to find great problems and really understand what it takes to create a practical solution. Ultimately, successful efforts which do that tend to be pretty workable and the rewards will come later!
The key thing is working out exactly who are the people experiencing the problem you're trying to solve are - what are their deepest motivations/worries/drivers and what exactly is the problem they're facing? The more you understand those things, the better your solution will be. Once you've done that, you'll be well-placed to know if it's a big enough problem for enough people to make it a viable thing to work on.
Most of those we help are early-stage founders... What was the biggest challenge you face launching the business in the first few months? Can you talk about how you overcame that to get things truly off the ground?
For us, the biggest challenge was getting things off the ground - finding enough tutors and students to get things rolling. My biggest advice for those who can (I realise you can't do this for every business) is to do things in a hacky way, which puts you right in the middle of the problem you're trying to solve.
I remember speaking to hundreds of tutors and parents in the first year of us starting out. From all of those conversations, I was able to build a really deep understanding of who we were trying to help, how to speak to them, and what they needed at every point they interacted with our business. I can't emphasise enough how important it is to become an expert in the area you're working in, and how much throwing yourself into the problem itself will help you do that.
What stage would you say you are currently at?
The team's at about 50 people now, so I'd say that we're a scaleup.
Thanks for your tips on how to find a great idea. Alongside that, what are your top 3 tips for founders or the things you wish you'd known when getting started?
Ah, so many things! Okay, so the top three tips I would have, are...
1. Make sure you're working on something you're passionate about. Running a startup takes a lot of time and commitment, so it's important that it revolves around something you care about!
2. Always focus on the biggest problem! The best founding teams I've met are those who always talk about the worst thing about their business, not the best. It's easy to hide away from things that are difficult, but being a startup founder is about always problem-solving and tackling whatever is standing in the way of your business growing.
3. Have an opinion, test it confidently but be humble. Having a startup is about doing, testing, and constantly listening to feedback - from users, your team, investors, other founders - and reacting to it effectively. The challenge is to understand the problem you're working on better than anyone else, so you can come up with the best solution.
What are the next steps in your business? How do you propose taking these?
I think the goal for Tutorful is to carry on helping as many learners as possible achieve their goals. In doing so, we also seek to help the best tutors keep tutoring, by finding them students and ensuring that it's a sustainable career.
For me, having joined the team at Emerge, I'm really looking forward to helping students and staff who want to learn about enterprising skills and start new ventures. It's incredibly exciting to meet so many people with great ideas, and to support them along the way!
Is there a big ask that you would like to share with our community?
My big ask is for students to get involved with one of our competitions, workshops or socials to see how enjoyable enterprising endeavours can be! I couldn't put more emphasis on what a fantastic opportunity your time at university is to work on a project of your own, or to join an existing team. The skills entrepreneurship provides will certainly help you stand out as a future employee and may even lead to you working on your own venture, so it really is a wonderful thing to do alongside your studies.
As for Tutorful, just check out the site if you'd like any extra help with your studies/to learn a new skill, or to find a tutor!
What's your website in case our community wants to get in touch?
Check out Tutorful here: https://tutorful.co.uk/
Thanks so much Scott for your honesty and willingness to share.  I'm sure our community will find this a fascinating read!
If you would like to share your entrepreneurial story, then please take a look at our Stories of Founders form
A world-class university – a unique student experience
Sheffield is a research university with a global reputation for excellence. We're a member of the Russell Group: one of the 24 leading UK universities for research and teaching.