Improving the health and happiness of older adults in Sheffield and beyond
Inspired by the University of Sheffield's co-curricular programme, Enactus Sheffield and a passion for exercise. Learn how Motion Exercise founders Zeezy Qureshi and Ella Hopkin started out.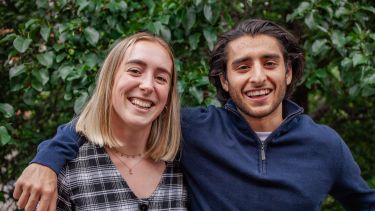 Thank you Zeezy for your time.  Can you share a bit about what you do and why you came to the University of Sheffield in the first place?
I'm 23 and I'm the proud co-founder of a social enterprise called Motion Exercise. Being the first person in my family to attend university, when it came to applying I didn't really know where to start. Growing up in Leeds, I knew I probably wanted to stay in the North and I wanted to study Economics and Philosophy. Sheffield was one of two Universities that offered the course and when I attended an open day I really liked the City and found everyone super friendly. I also had my grade requirements lowered through the widening-participation programme! When I got to Uni I soon realised I wasn't very good at maths and dropped the Economics part of my degree and graduated with a BA Philosophy degree. That was probably my first real experience of 'failure' and it taught me an awful lot.
Wow, a fascinating journey!  Would you call yourself an entrepreneur now then?
It depends what meaning we apply to the term, entrepreneur. I am [an entrepreneur] in the sense that I have set-up and run a business, but I wouldn't tell someone I'm an entrepreneur if I was asked what I do. I think in order to be as inclusive as possible, it's probably wise to move away from using language that is easily misconstrued. For better or for worse, 'entrepreneur' is one of those.
---
It's easy to make assumptions about how your customer or beneficiary may feel, but the best way to find this out is to ask.

Testing ideas

Zeezy Qureshi
---
This is an interesting insight and highlights some of the challenges around inclusivity; a whole other topic.  Our team is passionate about being inclusive and is very focussed on providing access to all students across the University.  Can you share more about your business journey?  Where did it all begin?
Motion started at University, through a co-curricular programme called Enactus Sheffield — it's a student-led organisation that supports students to design, develop and implement social impact projects. It was in Enactus that I met Ella, co-founder, who had a year's work experience with Age UK and a real passion to do something that improved the quality of life of older adults within our community. This married up well with my background in exercise coaching, and off we went to speak to local care homes to understand what we could do to increase physical activity and reduce social isolation.
This sounds like the meeting of both passion and talent at just the right time!  Can you give any advice to students that are searching for their own idea to work on?
Find a problem that you're genuinely passionate about solving. It doesn't have to be massive, but don't shy away from it if it is.
Speak to those who are experiencing this problem. It's easy to make assumptions about how your customer or beneficiary may feel, but the best way to find this out is to ask.
Don't be afraid to lean on others and ask for help. This is particularly the case within the University, which has a wide range of experts who, if you asked, would probably be happy to have a chat. That was the case for us and a number of them now sit on our Expert Advisory Board.
Great advice thank you.  You clearly have a great team!  Did you come up against any challenges early on?  What would be the biggest and how did you overcome it?
There has been so many, it's hard to pick one. Personally I get quite distracted and like to run away with new ideas that crop up. Focussing on the valuable few activities, rather than the trivial many, has been something that's benefitted Motion. When you're starting a business every day is a school day. I think it's best to embrace this and the unexpected challenges that arise.
---
Try to get yourself a support network you can rely on...Be ambitious...Be empathetic

Top tips

Zeezy Qureshi
---
So what stage is Motion Exercise currently at and what do you see as the next steps?
We currently deliver person-centred, engaging and cost-effective exercise sessions to over 120 older adults in Sheffield every week. We're in the process of scaling this to improve the health and happiness of older adults across the UK, and who knows, maybe even worldwide?  Going forward will involve:
- Increasing the delivery of our person-centred exercise sessions that we deliver to care homes with the use of live-streaming technology, by establishing more care home partners.
- co-designing our application with care home staff and residents, to deploy a wide range of well-being activities into care homes and support Wellbeing Coordinators to broaden the range of activities that they offer.
- Keep enjoying the ride.
A very exciting future awaits!  All the best.  Coming back to the students here at the University, can you offer advice about how to get started?
1) Try to get yourself a support network you can trust and rely on.
2) Be ambitious. Do things that challenge you.
3) Be empathetic.
Support is really important.  The Emerge: Be enterprising is on-hand for any students, staff or recent graduates.  Please do get in touch.  Finally Zeezy, do you have a big ask that you would like to share with our community?
Follow us on social media: @motionexercise or 'Motion Exercise'. We promise our posts will put a smile on your face, or your money back.
You can also check out our website https://motionexercise.co.uk/
Thank you so much for sharing your thoughts, experiences and advice.  Our team looks forward to seeing how Motion Exercise develops and the positive impact it generates to what is now an ageing population!
A world top-100 university
We're a world top-100 university renowned for the excellence, impact and distinctiveness of our research-led learning and teaching.