If you're starting or continuing a course with us from September 2020 and don't have access to the IT equipment needed to engage with your course you could be eligible for support. Home and overseas students can apply.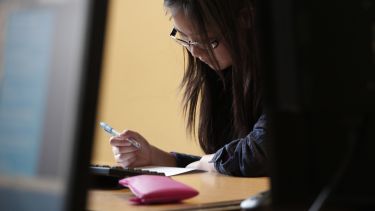 If you meet the criteria listed below you will be eligible to receive a laptop from the University to enable you to engage with your course whilst some teaching is online. The equipment is a loan for the duration of your studies. 
Eligibility criteria
To be eligible to apply you must meet the criteria listed below:
Register or re-register with us on an undergraduate, taught postgraduate or research programme from September 2020.
If you are a new student you must have accepted an unconditional offer for a course.
You must also meet the criteria in one of the bullet points below:
Demonstrate that purchasing a laptop would put you in financial hardship. We will assess this by asking you to submit an application to Financial Support (the University's hardship fund). Further information and the application (Financial Support for IT equipment only) are available via the Financial Support web page.  We particularly encourage applications from new undergraduate students registered on a degree with a foundation year, aged 21 or over. Once you have submitted a complete application we will contact you within seven working days to confirm whether you are eligible or not. 
Be a new undergraduate student, have a household income of £25,000 or less and live in an area of the UK where it is less common for people to go to university. This is defined by the government's classification called POLAR. To meet this criteria your address must fall into quintile 1 of POLAR3 or POLAR4. Please note this information covers the UK only. You can check your eligibility for this criteria using the government's POLAR database. You should use the postcode of the home address you used on your UCAS application.
How to apply 
Please ensure you meet the eligibility criteria above before submitting the application form below.  
To apply complete the online application form below: 
Once you have submitted a complete application you will be contacted within seven working days to confirm next steps.
If your application is successful you will be loaned a DELL Vostro laptop (exact model to be confirmed) for the duration of your course. 
Points to note
Not all applications will be successful.
Depending on your circumstances you may be awarded a contribution towards the cost of the equipment you need.
If you're eligible to apply because of your household income and postcode we will check these details against your UCAS and student loan application. You must have had a means tested assessment with the Student Loans Company for us to confirm your household income.  
If you are not eligible to receive a maintenance loan from the Student Loans Company you will need to confirm your eligibility by submitting an application for Financial Support - IT equipment only.  
If you receive a laptop from the University you will be asked to sign an agreement. Further details will be shared when your eligibility is confirmed. 
It is your responsibility to submit a complete application with any required evidence. 
You will need to be fully registered to receive any equipment or award.
Financial Support Team
If you have have any questions about the IT equipment support, get in touch: financialhelp@sheffield.ac.uk