Student COVID-19 Support Fund
If you're facing additional costs or a significant reduction in income because of the COVID-19 pandemic you can apply for support from the University. All registered students are eligible to apply.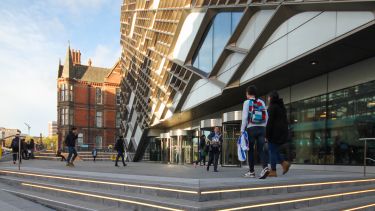 Eligibility
To apply for the funds you must meet the two criteria listed below:
Be fully registered 
Facing additional costs or a significant reduction in income due to the COVID-19 pandemic.
Please also check the 'Point to note' box below before submitting an application. 
Examples of what can be supported: Private COVID-19 tests required for travel where you have been invited back for face to face teaching by your department, increase in costs due to periods of self isolation, increased utility bills due to working from home, significant losses of income because of the pandemic, if you're paying for accommodation in more than one location. 
Examples of what cannot be supported: accommodation costs, tuition fees, expected living costs (food, travel to and from University), cash awards towards newly purchased (bought since 1 December 2020) laptops/desktops/tablets, payment of fines for breaching Covid-19 rules or other laws, increased travel costs where you have not been invited back for face to face teaching by your department.   
Resit fees

Resit fees will be waived for students with result outcomes of Fail (F) or Not Completed (NC) in the current 2020/21 academic year. This includes where the resit is undertaken during the current or a future academic year.

Students who have a failed or not completed assessment in the current 2020/21 academic year and have paid will be automatically refunded. Resits arising from Autumn or Spring results will not be charged. You do not need to take any action to receive the refund, we will be in touch about it soon.
How to apply
1. To apply for support you'll need to complete the application form below. 
You should attach evidence to the online form to confirm your circumstances. This can be submitted as a screenshot, a PDF or a photograph of a computer screen. Increased costs or loss of income can only be considered from this academic year. 
If you need to submit a second application or provide further information please email us (contact details are at the bottom of this page).
Apply for the Student COVID-19 Support Fund
Please ensure you attach suitable evidence to your application form to confirm your circumstances. We will not be able to process your claim without it.
We recommend contacting us before purchasing any items for confirmation that it can be reimbursed. 
Examples of evidence you may include:
Re-arranged travel costs

Booking confirmation - showing the total cost, travel details and your name
Cancelled travel tickets
Re-booking fees

Significant loss of earnings

Example of a previous wage slips (minimum 3)
Confirmation from your employer that your hours have been reduced
Bank statements showing a regular wage being paid in

Private Coronavirus test for travel

Confirmation of the test booking and the cost

If you're paying for accommodation in more than one location

3 most recent bank statements - these should confirm that you are paying rent or board for more than one property where applicable
Tenancy agreement
Confirmation that your landlord/accommodation will not be providing you with a rent refund or rebate

Increased utility costs

A bill or statement from your utility provider (gas, electricity, water) which includes your name or an address that is listed on your student record. 

Other additional costs

Increase in food costs, for example, if you are having to pay food delivery charges whilst self isolating
Receipts or bank statements showing how much you have spent on any additional costs for example office furniture or IT connectivity hardware (e.g. wifi booster).
2. You'll be notified of the outcome of your application within 10 working days of submitting the form and all required evidence. 
3. Successful applications will receive support within 5 working days of your outcome email. 
If you have any questions about the process or evidence required please contact us using the details at the bottom of the page.
---
If you are facing any unexpected additional costs or costs that relate to childcare, caring responsibilities or a disability please apply for Financial Support.  
Points to note
Awards are a contribution to costs and will not necessarily cover all of your financial needs. Some areas of support are capped to ensure all students have an opportunity to apply. 
The minimum claim/award is £10.
Awards and reimbursements will only cover the cost of standard travel.
Awards may be calculated using reasonable living costs - this is based on annual amounts used by the Department for Work and Pensions called Composite Living Costs. 
Applications that need further information may be referred to the Financial Support application so that a more thorough assessment can be completed. 
This fund cannot be used towards tuition fees.
The Students' Union are currently campaigning for a rent rebate for students living in privately rented accommodation. You cannot apply for a rent rebate from these funds. 
Applications are treated with the utmost confidentiality and will never be shared with your department, unless you give us permission or ask us to do so. 
Visiting students should apply to their home university for financial help in the first instance.
Support for increased travel costs (testing, quarantine hotels etc) will only be provided for students who have been invited back for face to to face teaching by their department. 
Students applying for support for a test as part of the Test and Release scheme must use one of the approved providers.
The Student Support and Guidance helpdesk is currently closed, application forms and evidence must be submitted electronically until further notice. If you cannot do this please contact us (details below).
Processing and response times may be delayed because of University closure days and Bank Holidays. 
Contact us
Fees and Funding Team
Email: financialhelp@sheffield.ac.uk
Telephone: 0114 222 1319 (Monday - Friday, 10 - 4)