I feel I definitely made the right choice in choosing General Engineering at Sheffield
The course offers the 'Energy and Sustainability' specialism which no other course does and is a sector in which I see my future career being in. Sheffield is a great city and there are loads of fantastic extra curricular activities to be involved in.
I chose General Engineering at the University of Sheffield after coming to the open days. I remember Andy Nichols being so passionate about the course and promoting the sustainability aspect in engineering, which is something I really wanted to focus on. Andy said that everyone on the course was so close and that it was very much a family, which I can definitely confirm is true. Everyone is so friendly and it is a really good atmosphere. The Diamond on top of all this, just gave such an innovative feeling, I could picture working here and not getting bored or weighed down by the work because it had such a great feel and environment. 
I enjoy working and spending time with the people on the course. In-person lectures are fun and it is nice to be with friends. Tutorials are half as difficult because you have such a great support group. The design module is particularly good as we get to work together and produce projects, which is so important after graduation.
I joined GEMsoc (General Engineering Society) in my first year and this year I am the secretary of GEMsoc. It is such a fun society, we were able to go to laser quest, restaurants and now we do online games and virtual socials. It is nice to spend time with people on the course when you can relax and not think about work or anything important and just have fun.
I think I am going to choose Energy and Sustainability to specialise in, it is one of the reasons I decided to apply for General Engineering, as no other course offers it and it has a broad range in it's modules, so it will be well rounded. Renewable energy and sustainability is the way forward into the future and it's exciting to be a part of that. 
After I graduate I hope to work in an engineering company focusing on renewable energy or sustainability in some way. Hopefully i can be a manager or a team leader some day as I'm not the best at numbers, but I enjoy project work and team work.
The advice I would give is to definitely do it!! People in other universities and different courses don't know many of the people on their course as it is so big and so daunting to speak to people, but here there are around 50 people, depending on the year group, who all know each other. This means that you will always have someone who can help with a problem or a question and you will get so close as this is such an intense degree, you will become great friends. On top of that, the lecturers are really helpful and will be there if you need extra support or another explanation of something. This course is difficult, but it is so rewarding and interesting, and when you graduate, you will be the best of the best, so many employers are looking for engineers who can do everything, and you can.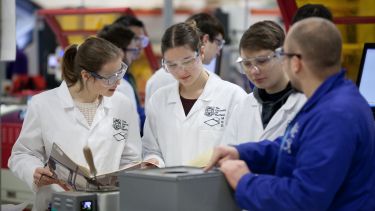 A world-class university – a unique student experience
Sheffield is an engineering research university with a global reputation for excellence. We're a member of the Russell Group: one of the 24 leading UK universities for research and teaching.
Explore the University
Discover what sets Sheffield apart at our next on-campus open day.