Whether it's the MEng or BEng, our General Engineering courses deliver a truly interdisciplinary learning experience.
This short video series gives you a flavour of the course and showcases the vibrancy of the teaching, the quality of the facilities, and the feel-good nature of the learning environment.
Labwork in General Engineering
What's a Gryocar? 
Can you run on custard?
ROBOFISH!
AllAboutThermofluids.com 
What happens in the Fluids Lab?
Graduate teaching assistants
Understanding inertia
What's in the black box? A 1st Year Electronics Lab
What happens in a 1st Year Thermodynamics Lab?
What happens in the mechanical testing lab?
Atomic structures lab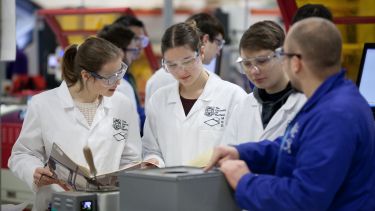 A world-class university – a unique student experience
Sheffield is an engineering research university with a global reputation for excellence. We're a member of the Russell Group: one of the 24 leading UK universities for research and teaching.
Explore the University
Discover why Sheffield is the right choice for you at one of our open days or events.