Professor Bigg is awarded Denny Silver Gilt Medal
Professor Grant Bigg has been awarded the Denny Silver Gilt Medal by the Institute of Marine Engineering, Science and Technology for his journal article Forecasting the severity of the Newfoundland iceberg season using a control systems model, which was published in the Journal of Operational Oceanography last year. The article discussed an iceberg prediction model which Professor Bigg has been working on. The model's ice season forecasts are now being sent on an annual basis to the International Ice Patrol.
The Denny Silver Gilt Medal is awarded to the best paper published in a complete issue or supplement over the course of one year in each of the Journal of Marine Engineering and Technology (JMET) and the Journal of Operational Oceanography (JOO). The medal is awarded by IMarEST Council following recommendation from the Editorial Boards and the Proceedings Supervisory Board.
Study with us
Join an international community of geographers and help tackle the biggest issues in our changing world.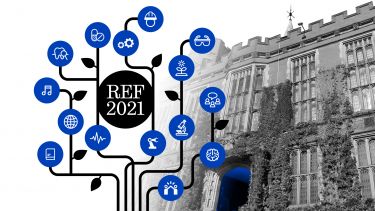 Research Excellence Framework 2021 results
The results demonstrate our research and impact excellence across a broad range of disciplines and confirm that our research is having a significant positive impact on lives across the globe.