Student Expedition Receives Mount Everest Foundation Grant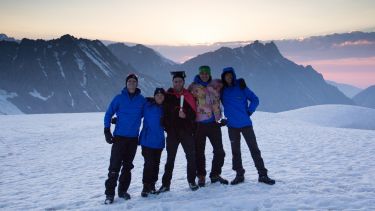 Five students from The University of Sheffield have received a grant from the Mount Everest Foundation to contribute towards an expedition later this year. The group will be heading out to the Ala Archa National Park in the Tien Shan mountain range, Kyrgyzstan to discover the nature of changing climate in the region.
The expedition will be led by Alex Hyde and Sam Gillan, two second-year BSc Geography students. Accompanying them will be Louise Reddy, a first-year BSc Environmental Science student who will assist the team with their research, as well as ensuring that the trip is as sustainable as possible. The team is completed by Calum Sowden and Kate Bernard, two Medicine students. Calum, in his second year, will be the Expedition Medic, while Kate, a third-year student, will be help as a researcher and general team assistant.
Found in the north of the Kyrgyzstan, Ala Archa is home to many glaciers. The students will hope to determine how these glaciers respond to changing climate patterns using a range of techniques. Alex will be looking into the spatial variability of glacial melt, while Sam will model the glaciers using advanced drone technology. By using drones, the students will hope to build up a composite map of the region's glaciers. These high-resolution images will play be key to interpreting the way in which climate change is affecting the region.
The expedition is planning on adding this high definition imagery to the global glacier database, as well as developing teaching resources for A-Level and GCSE students from their research.
For more information, please visit their website or check their Facebook page.
Study with us
Join an international community of geographers and help tackle the biggest issues in our changing world.
Explore the University
Discover what sets Sheffield apart at our next on-campus open day.