Dr Ann Rowan
BSc, PhD
Royal Society Dorothy Hodgkin Research Fellow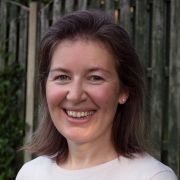 A.Rowan@sheffield.ac.uk
+44 114 222 7975
Room C13b, Geography and Planning Building
Full contact details
Dr Ann Rowan
Department of Geography
Room C13b
Geography and Planning Building
Winter Street
Sheffield
S3 7ND

Profile

Ann Rowan has a BSc in Environmental and Resource Geology (2007) and a PhD in Earth Science (2012) from the University of Manchester. After her PhD, she was a Research Fellow in Glaciology at Aberystwyth University and briefly worked at the British Geological Survey.

Ann joined the University of Sheffield in 2014 as an Ice and Climate Research Fellow and remained as a Vice Chancellor's Fellow from 2015. In 2020, she was awarded a prestigious Dorothy Hodgkin Fellowship by the Royal Society.
Research interests

Glacial geomorphology as an archive of palaeoclimate change
Geomorphology and dynamics of mountain glaciers
Resolving uncertainties in glacier–climate modelling
Publications
Current research projects

Rethinking ice-marginal moraines as a palaeoclimate archive (Royal Society funded)

Glaciers fluctuate in response to climate change. Typically, a cooling climate causes glaciers to expand and a warming climate causes glaciers to shrink. Changes in glacier size are recorded by spectacular glacial landscapes in locations such as the European Alps, New Zealand, the Andes and the Himalaya.

Geomorphologists are only beginning to understand how glaciers shape the landscape in response to climate change, and many exciting research questions will be addressed by this project, such as: How fast can glaciers expand and shrink? Why do glaciers not always respond to climate change as expected? What can glacial landscapes tell us about climate in the geological past?

If you are looking for a PhD or research project that addresses these questions, please get in touch.

EverDrill: Accessing the interior and bed of a Himalayan debris-covered glacier to forecast future mass loss (NERC funded)

The EverDrill project (https://everdrill.org) used pressurised hot-water drilling to make boreholes through the world's highest glacier—Khumbu Glacier, Nepal. The EverDrill team gathered visual footage of the interior of each borehole and measured ice temperatures and deformation from the glacier surface to its bed.

Borehole data, combined with numerical glacier modelling, provide an unprecedented insight into the physical structure and dynamics of a high-elevation debris-covered glacier and the processes that operate englacially and at the bed to control how Himalayan glaciers respond to climate change.