Dr Anna Krzywoszynska
Research Fellow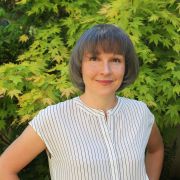 Profile

Anna Krzywoszynska is a Faculty of Social Sciences Research Fellow. She is also an Associate Director at the University of Sheffield Institute for Sustainable Food.

Her research concerns agriculture and food as the key spheres for the interaction between human and more-than-human worlds.

She is especially interested in environmental knowledge, ethics, and affect, and how these shape and are shaped by rural and food-related spaces and practices. Her work engages frequently with the natural sciences.

Consequently, her research also investigates the potential for 'opening up' the spaces of scientific knowledge production to non-certified expertise, as well as challenging the persistent division of labour between social and natural sciences in speaking about materiality, life, and ecology.

For the last few years Anna has been exploring the reconceptualisation of soils as lively ecosystems in conventional agricultural practice and its related knowledge fields, and the consequences of this for the future of agriculture and land use.
Qualifications

Anna graduated in European Social and Political Studies, specialising in Anthropology, at University College London (2002), and obtained her PhD degree in Geography at the University of Sheffield (2012).

She then held a position as a Post-Doctoral Research Associate at the department of Geography, Durham University, as part of a transdisciplinary project funded by the EPSRC.

During that time she also worked as an ESRC Nexus Network-funded Fellow at the Department for the Environment, Food and Rural Affairs (Defra).

Anna's research to date has engaged with key sustainability themes, including food production and consumption (PhD), renewable energy (PDRA), and waste and sustainability (PhD).
Research interests

Knowledge and care in natural resource management

Scientific knowledges dominate our understandings and practices of managing natural resources.

We need to pay attention to how these knowledges relate to practical and affective engagements with the environment in our work of cultivating sustainable human-environment relations.

Care, as practical action and normative commitment, is a promising new framing which situates knowledge in a praxis-oriented manner.

I am interested in the interplays between different kinds of knowledge about, and care for the environment, and the politics inherent in these processes.

Knowledge co-production

The blurring of traditional divisions between academic and public knowledges, and between different areas of 'expertise', offers an opportunity to imagine ways of creating and mobilising knowledge which are both more socially robust and advance human understanding.

I am interested in what kinds of social infrastructures and processes enable knowledge co-production to flourish in a meaningful and valuable way, and I research these themes both as an observer and an active participant.

Soil Care Network

Anna is the founder of the Soil Care Network, an international and interdisciplinary community of scholars and non-scholars animated by a fascination with soils.
Publications

Edited books

Journal articles

Chapters

Conference proceedings papers

Reports
Research group

Anna is a co-supervisor of three PhD student funded by the Grantham Centre for Sustainable Futures:

Jenny Veenstra whose PhD project is exploring farmers' decision-making around the adoption of no-tillage soil management in Europe.
Hannah McCarrick whose PhD is investigating the relationship between Information and Communication Technologies and soil conservation and land management practices in Tanzania.
Nancy Muringai, whose PhD explores the relationship between farmers' and scientists' understandings of and practices related to soil health.