Dr José Luis Fajardo Escoffié
Research Associate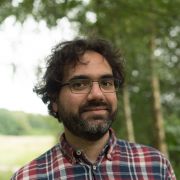 j.fajardo-escoffie@sheffield.ac.uk
Geography and Planning Building
Full contact details
Dr José Luis Fajardo Escoffié
Department of Geography
Geography and Planning Building
Winter Street
Sheffield
S3 7ND

Profile

After gaining a Social Anthropology Degree at the Universidad Autónoma de Yucatán in México, I went on to do an MA in Visual Anthropology and a PhD in Social Anthropology with Visual Media, both at The University of Manchester.
My experience includes working for charities and government agencies in Mexico as a social anthropologist and as a photographer in projects related with the conservation, perception, and restoration of nature under the logic of social participation. I have also participated in the production of documentary films in Peru and in the UK.
Research interests

I am interested in fieldwork-based research that lies at the intersection of agriculture, food consumption, sustainable management of the environment, and visual representation. I use audiovisual media as a tool to mediate collaborative participation and to present my research.

I have conducted fieldwork research in Mexico, Peru, Wales, and England looking at natural protected areas, ecovillages, food chains, and food heritage. 

I am Research Associate in the project "Agri-Environmental Governance Post-Brexit" funded by the ESRC and led by Dr Ruth Little. This project aims "to understand and develop new principles and practices of co-production and investigate how they can be deployed to help design, deliver and evaluate the post-Brexit Environmental Land Management policy development process."
Teaching activities

Teaching assistant in the Department of Social Anthropology at The University of Manchester for the courses: "Regional Studies of Culture: Africa" and "Regional Studies of Culture: Oceania".

Teaching assistant in the Faculty of Anthropological Sciences at The Universidad Autonoma de Yucatan (Mexico) for the course: "Techniques for Qualitative Research".