Environmental Challenges in Global Perspective
Our research addresses global transformations in the nature of rural and urban development, governance, citizenship and the challenges posed by increasing inequalities to further social and environmental justice.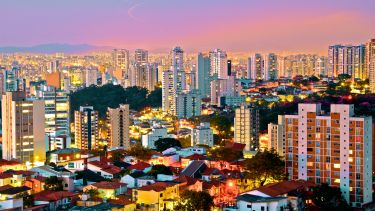 The Global South is facing rapid urbanisation alongside other challenges around land and water use, citizenship and activism, and agrarian transformation. Our interdisciplinary researchers work with a range of partners including NGOs, academics and policy makers around the world to understand these challenges and propose strategies for sustainable development.
Research themes 
Urban Development and Transformation

The 21st century is urban and the world's most rapidly growing cities are in the global South. Our research focuses on urban development and the transformation of cities in Latin America, Africa and Asia.

This research identifies characteristics of cities that are particularly 'Southern,' and also seeks to enrich mainstream urban studies by focusing on emergent trends such as China's influence on African cities, the application of global environmental governance frameworks in Latin America, and the re-emergence of regional planning strategies that foster transnational connections through mega-infrastructure projects. We have long-standing collaborations with academics and policy makers around the world, and we use a range of qualitative and quantitative methods to gather primary data in some of the world's most dynamic cities.

Citizenship, Governance and Exclusion

How does a social justice lens help us to understand geographies of citizenship and democratisation, inclusion and exclusion, belonging and nationhood?

Research in this theme is concerned with furthering sustainable and just development futures through understanding the changing nature of social and political action on the part of individuals, groups, organisations, social movements and governments. Particular interests include the role of media and of information technologies in development, and the changing nature of identity, citizenship and activism. Much of this is participatory action research, and there is a strong focus on overcoming gendered and generational barriers to involvement. Partnerships with NGO's ensure that the research has impacts on development practice.

Environment and Society Dynamics

How is development changing and how can we work towards green economies that are low carbon, resource efficient and socially inclusive?

Research in this theme is concerned with generating insights into sustainable and equitable rural development, agrarian transformation, conservation, and environmental change across Africa, Latin America and Asia. We have particular interests in scrutinising the management and use of water and land, in analysing datasets for tracking society/environment dynamics, and in examining the implications of the growing trend for developmental corridors (prioritising agriculture and infrastructure). Our research is conducted in partnerships with universities in the global south, as well as with development agencies to ensure relevance, uptake and practical application.
Research making an impact
Measuring and Modelling Metabolic Flows in Bagamoyo, Tanzania

This research is about the challenges faced by a rapidly growing medium-sized city in Tanzania. It employs novel methods to better understand the delivery of municipal service systems (waste and water), and it ultimately generates recommendations for their improvement.

Duration: 2015 - present

Tanzania is the most rapidly urbanising country in East Africa, and its urban population is expected to grow to 60 million by 2050. This poses urgent challenges as city systems are put under considerable strain. This project focuses on how one medium-sized city is dealing with these challenges. Bagamoyo is on the Indian Ocean coast approximately 35 miles north of the capital Dar es Salaam. It features prominently in the Tanzanian Government's development strategy and its population is growing faster than formal service systems can be expanded. The aim of this project is to establish an understanding of the complex nature of waste and water systems in Bagamoyo, and develop strategies for strengthening their reach, efficiency, inclusivity and resilience.

Its' main objective is developing a new method to measure metabolic flows in cities in developing countries, whose metabolic systems are largely informal.

This research has already resulted in policy recommendations, made at a dissemination event in Bagamoyo with representatives from the District Commissioner's Office and the Dar es Salaam Water and Sewage Corporation (DAWASCO). The recommendations were focused on ways in which the city's metabolism could be reconfigured to reduce inequality and enhance sustainability.

Hidden Crisis: Unravelling Past Failures for Hidden Success in Rural Water Supply

Groundwater is a vital resource for many rural people in sub-Saharan Africa but evidence suggests that 30-40% of boreholes fitted with handpumps are not functioning at any one time. This research aims to understand the reasons for this functionality failure and to find ways of addressing it.

The inter-disciplinary project team project team brings together experts working on water governance, hydrogeology, systems engineering and groundwater recharge. Universities in the UK (Sheffield, Cambridge) and Australia (Flinders) team up with those in Africa (Addis Ababa, Makerere and Malawi) to design and deliver the research. WaterAId in the UK and in each country is the partner with decades of experience of developing rural water supplies and helps to ensure that the research has practical application.

This project is part of a larger international research programme Unlocking the Potential of Groundwater for the Poor (UPGro), which is funded by UK's Department for International Development (DFID), Natural Environment Research Council (NERC) and the Economic and Social Research Council (ESRC). It focuses on developing knowledge to enable developing countries and partners in SSA to use groundwater in a sustainable way in order to benefit the poor. Reliable water supplies are essential to achieving the UN's Sustainable Development Goals.

The project aims to develop robust evidence from three countries to help explain why so many waterpoints fail.

The evidence and understandings developed through the project should help inform future policies and practices in rural water supply provision. Impact will be achieved through the close working partnership with WaterAid and by engaging with the rural water supply community globally through participating in channels such as the Rural Water Supply Network (RWSN) via webinars and blogposts.

"Never a Dull Day": Civil Society and Sustainable Development in the Eastern Caribbean

The project is about civil society organisations and sustainable development in the Eastern Caribbean. It looks at how civil society groups work towards sustainable development in small island contexts, how they sustain their work in a rapidly changing global development landscape and the practices, relationships, knowledge and experiences that contribute to 'doing development' by civil society groups.

Duration: 2014-17

The research is an ESRC funded collaborative project with an intergovernmental organisation based in London, the Commonwealth Foundation. The research is concerned with how civil society can best be supported from the outside by international organisations and the complexities associated with this kind of support.

It takes place in the Caribbean, specifically the islands of Barbados and Grenada.

The objectives of the project are:

To develop an ethnographically inspired understanding of civil society groups in the sustainable development sector in the Caribbean.
To consider what implications this understanding might have for the way that civil society is conceptualised and engaged with by international agencies.

This project is important because civil society organisations are important development actors, with significant amounts of funding flowing through them. They have, however, been heavily critiqued for being ineffective and inefficient, with potentially limited capacity to address the root causes of development problems. How best to strengthen civil society is a crucial question for many international organizations, with existing frameworks of civil society often based on western and eurocentric understandings of the concept. This project aims to use the experiences of civil society groups to generate alternative perspectives on civil society and its place within the global development industry.

The project hopes to build a body of work that is useful for international organizations and civil society groups, encouraging them to reflect on their role within the global development industry.
Staff and students
Research and academic staff

PhD students

Naomi Oates
Martha Avalos-Pelaez
Sarah Peck
Teresa Weimer
Jonas Cromwell
Amos Baminda
Lara Fayombe
Clement Donguram
John Ulumara Nnko
David Pertaub
A world top-100 university
We're a world top-100 university renowned for the excellence, impact and distinctiveness of our research-led learning and teaching.