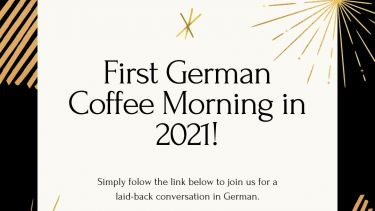 Practise your language over a coffee (oder Tee)! In Sheffield we want to create as many options as possible for you to use your languages with others. That is what language is for after all. In German we are rather fond of our German Coffee Mornings. And here is why.
Pre-covid these get-togethers were a 'live event with coffee', usually set in the Interval Cafe and Bar in the University of Sheffield Union. Since the pandemic hit, Franziska and Yasemin have moved their German coffee mornings (or afternoons) online – with great success!
These online sessions give students the opportunity to practise their spoken German with native speakers in a relaxed setting. Often students bring their own topics to the coffee mornings. One week we speak about politics, the next we compare notes on our university studies.  Then again, we sometimes just talk about puppies.
Students get acquainted the Austrian and Bavarian dialect during these sessions, which can be challenging, but is always fun.
German coffee mornings are open to all our students, from beginners to nearly finished, which makes them a great opportunity to get to know other German students. And finally, we occasionally invite 'special guests' like Moritz from Germany who is doing his PhD here in Sheffield.
In short, everybody is welcome, follow us on Instagram to find out about the next session.