By channelling the donations of Sheffield alumni into projects, clubs and societies, the Alumni Foundation aims to help staff and students continue to make the University an innovative and exciting place to study.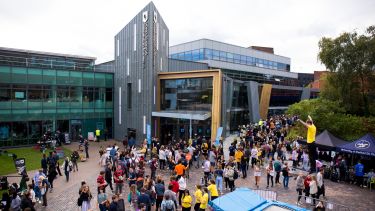 Does your group, club or society need help with funding? Have you got a great idea for a project?
The Alumni Foundation understands the importance of extra-curricular activities and projects. Whether it is in helping students to develop lifelong skills, connecting with the local community or enhancing the student experience - the Alumni Foundation is here to help.
The grant-making committee is made up of academic staff, Students' Union Officers and representatives from the Alumni community. The Committee meets three times over the academic year to direct gifts and donations to areas of need. The Alumni Foundation invites applications for grants from any current department, group or individual member of the University (students or staff) for projects and activities that directly benefit students.
Information for applicants
The Foundation has a policy of making a large number of small grants (usually around £100 to £2,000) to projects and activities that add life to the University.
These can be to assist sporting, musical, dramatic and cultural clubs, societies and projects.
To spread resources as widely as possible, the Foundation often requires applicants to raise part of the funds needed for their project from alternative sources.
If you are a current student or member of staff with an idea for a project, a member of a club, society or student group, you might be eligible for an Alumni Foundation grant.
Currently the Alumni Foundation is unable to accept applications for the November deadline, due to the restrictions on university activities as a result of COVID-19. We hope that applications will re-open in December 2020 in time for the February 2021 deadline. 
The Alumni Foundation is a grant-making committee which distributes the philanthropic donations of alumni and friends to the most deserving recipients.
Since its launch, a variety of projects and activities throughout the University have benefited from the generosity of our supporters.
The Alumni Foundation can only distribute as much money as it receives in donations. It is completely reliant upon the generosity of donors and we are very grateful for their support.
If you would like to support the work of the Alumni Foundation, please make a donation towards student experience.
Past projects
Since 2003, the Alumni Foundation has helped over 450 clubs and societies. In previous academic years, we received over 100 applications and awarded 70 grants. Here are just a few clubs and societies that have benefited:
Ala Archa Expedition (Geography) £1,450.00
Alfred Denny Museum Bird Skull and Egg Exhibition £780.00
American Football £600.00
Artificial Intelligence Society £90.00
Athletics Club £400.00
Belly Dance Society £400.00
Bhangra Society £400.00
Brass Band £150.00
Cycling Club £1,080.00
Equestrian Club £300.00
Futsal Club £450.00
Herbarium £400.00
Lacrosse Club £300.00

Lifesaving Club £180.00
Men's Football £250.00
Mountaineering Club £500.00
Open Space Society £250.00
Scouts and Guides £400.00
Sheffield University Theatre Company £1,500.00
Sheffield World Health Organisation (WHO) Simulation (SheffWHO 2018) £500.00
Speleological Society £750.00
Stand Up and Sketch Comedy Society £350.00
Tamil Society £500.00
Trampolining Club £1,500.00
Uganda WC Project £500.00
Women's Rugby Union £400.00
Has a grant award helped you achieve something you're proud of?
Even if you've already submitted your Grant Report, if you've achieved something you're particularly proud of, no matter how big or small, let us know. Send an update and some high-quality photographs to alumni@sheffield.ac.uk.