Apply to the Alumni Foundation
Information for students about applying for an Alumni Foundation grant.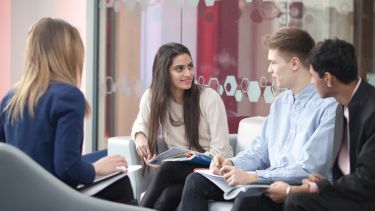 Alumni Foundation application deadlines for the 2020-21 academic year
Friday 6 November 2020 at 12 noon
February 2021 TBC
May 2021 TBC
Eligibility criteria
The Alumni Foundation Committee invites applications from all those that comply with the following criteria:
Applications must be from current University students and staff
Ideas must benefit more than one person
Applications can be made by individuals, groups, clubs or societies or on behalf of projects
Applications must be linked to the University and directly benefit students. We cannot accept applications from external charities
---
How to apply
To make an application, please complete the online application form:
Apply to the Alumni Foundation
Before submitting your application it is recommended that you read the application guidelines below thoroughly.
You will be able to edit your responses anytime up until 12 pm on the date of the deadline by following the instructions given to you once you have submitted the form.
It is advised that you use a spell checker before applying.
Applications submitted after the deadline will not be accepted.
If you need any advice before making an application, please contact the Alumni Relations team at alumni@sheffield.ac.uk.
---
Application guidelines
The Committee follows some general guidelines when considering applications, please read through the following before starting your application.
Due to increasingly high demand for Alumni Foundation grants, the committee has put in place the following guidelines.
You may also find it useful to read the 'Case Studies' section of the website for examples of successful recipients.
Successful applications – the Committee looks favourably on:
Applications that will benefit students in the long term, such as funding for equipment
Applications that have a wide-ranging impact on students and where possible other aspects of the University or wider community
Applicants who have demonstrated an ability to secure partial funding from other sources including active fundraising efforts
Projects that need start-up grants
Applicants who have provided a full and detailed breakdown of costs
Applications that aim to make activities more diverse, inclusive and/or accessible for students
Special conditions:
The use of University venues and services, for example, Print & Design, is to be encouraged if it is cost-effective
Requests for speakers or other external fees, such as reasonable travel and accommodation, will be considered
Requests will be considered for travel and accommodation for students attending high profile events or competitions
The Committee cannot support:
Projects that require long-term funding/recurring costs
Extravagant or poorly budgeted requests
Applications lacking detailed information
Applications for general running costs (e.g. pitch hire, venue hire or referee costs)
Requests from departments that are not for student-led projects
Applications from those clubs or societies funded in the previous round of applications, unless a compelling case is made
Applications for funding for socials or food/drink costs
Applicants going on electives or Raleigh International projects
Applications for attendance at academic conferences
Applications for research funding
Projects that the Committee believes are the responsibility of the University
Applications for funding for events or projects that have already happened, or that are due to occur within six weeks of the deadline
Requests to support external charities with direct funding
Applications that do not meet the above criteria may not be shortlisted for review by the panel. Please contact the Alumni Relations team for help and advice if required.
---
Conditions of the grant
Following the receipt of the grant, successful applicants will be required to produce a report detailing how the money was spent, as well as high-quality photographs
Successful applicants are also required to acknowledge the grant on all promotional material (flyers, leaflets and posters), kit (where possible), on social media and your web page
Grants not collected within six months of an award being made will be deemed to have expired (excluding exceptional cases)
If the Committee's conditions when awarding a grant are not fulfilled in a timely fashion, the Committee reserves the right to request a proportion of the grant back. If none of the conditions are met, the recipient may have to return the whole grant