Regrettably, we have had to cancel the Big Walk 2020, however we know our community is always eager to take on a challenge for a great cause. That's why we are excited to introduce The Big 30!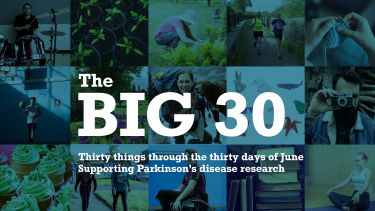 Over the 30 days in June, we are challenging our community to do 30 "things", either everyday or over the course of the month. You could do the same or a different 30 everyday, such as 30 sit-ups or 30 climbs of the stairs, or you could aim to run a total of 30 miles or grow 30 plants and give them away locally. The creativity is up to you, our fantastic fundraisers, and we can't wait to see what you come up with.
We are hoping this challenge will not only bring us all together during what is a difficult time, but also to help fundraise for our groundbreaking and essential research to help the 60,000 people who are diagnosed with Parkinson's every year.
This year we are raising funds for Parkinson's disease research here at the University. Every day, we are moving forwards in the race to find effective treatments for Parkinson's, and are on the brink of breakthroughs that promise a better future for everyone suffering from the disease, and their families. The Big Walk 2020 would have contributed a significant amount of funding to further our research, and although the walk cannot go ahead, the need to support this research which is as important as ever. That is why we are asking all of our walkers, staff and the University community to get behind our first ever entirely virtual fundraising event - The Big 30. 
Visit our Big 30 Just Giving page to see our fundraising total
How can you get involved?
Choose your 30 challenge and decide whether it's 30 a day or 30 over June.
Create a Just Giving page to keep track of progress, including linking your Strava page for cycling/walking/running challenges. Simple instructions for how to set up a page are available to download below.
Choose to fundraise £30, £60, £90, £130 or £300, or donate £30. Details of how each amount can make a difference are explained below.
Share your challenge on Social Media throughout June using #Big30Shef to update your friends and family on your progress.
If you are a member of staff at the University and your challenge involves walking, running or cycling, why not track your progress using the BetterPoints app? You can earn points for recording your activity, which you can donate directly to Parkinson's research on the app.
How your fundraising could make a difference
Here are some examples to help you set your target or choose how much to donate to the cause:
£30

fund use of a machine to assess the effect of a drug treatment on individual patients' cells
fund two hours of research by our early career scientists

£60

keep cells from Parkinson's patients alive for four days to use for research
help to cover the cost of a clinical trial for a day

£90

purchase equipment which helps researchers run 15 experiments to look deeper into Parkinson's patients' cells

£130

purchase chemicals to help researchers run 20 experiments to understand how the body disposes of damaged cells in Parkinson's patients
help fund training for the next generation of researchers

£300

help fund a patient biopsy so researchers can develop individual treatments
---
Once you have decided your challenge, please start sharing your photos, videos and more on social media using #Big30Shef so we can see our fundraisers' fantastic efforts. 
Download our instructions for setting up your Big 30 Just Giving page
Download a PDF of 'How your fundraising could make a difference' to share with your supporters