Genetic Disease Research is a cause close to Dr Philip Powell's heart. He's taking on the Big Walk because he hopes gene therapy might one day help the patients he works with.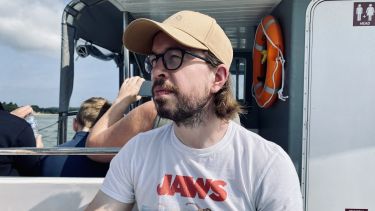 Phil, a Research Fellow at The School of Health and Related Research, says "For over four years, part of my research has been working with boys and men with Duchenne muscular dystrophy (DMD). This condition is an x-linked neuromuscular disorder, and my projects have been sponsored by the charity Duchenne UK.
I have witnessed first-hand the impacts of this terrible genetic disease, on people living with it day-to-day and their families.
Likewise, I've got to know the amazing boys and men that are living with Duchenne. I've had the privilege to learn about their lives, and discover how research into new health technologies can help to make things better for them."
Research and innovation in genetic diseases and associated healthcare treatments and interventions is one of the most effective ways of producing results that will lead to improving outcomes for families."

Dr Philip Powell

Big Walk Participant 2022
Phil is looking forward to taking part in the Big Walk and adds "I wanted a challenge to help motivate me to keep active, and a 50k walk will certainly do that."
---
You can help rewrite the future for thousands of people. With your kindness today, you'll help develop gene therapy treatments. And you'll bring hope to people suffering from rare and inherited genetic conditions.
DMD is just one of hundreds of rare genetic diseases that could one day be treated. Although individually uncommon, collectively it's estimated rare diseases affect up to 10% of the world's population. Most affect children and many are fatal or severely disabling. 
Gene therapy also has potential to treat genetic forms of common conditions like MND, dementia and hearing loss. The impact of your help today could be huge.
The University of Sheffield community aims to raise £200,000 by 31 July to fund a state-of-the-art Bioreactor. This will help a leading team of scientists to produce gene therapy treatments for a number of genetic diseases. 
With your help, Sheffield's researchers will be able to engineer bespoke genes to replace or silence faulty ones, in the form of a safe 'viral vector'. The new Bioreactor will help accelerate their research into clinical trials with patients.
The team behind this pioneering technique has already shown it works. Professor Mimoun Azzouz has helped to turn his research into a successful treatment for babies with another genetic condition: Spinal Muscular Atrophy. Gene therapy really is saving lives and has the potential to do so much more.
Join an unstoppable community of donors
United in your passion for Sheffield and how it can shape the world, together you'll help bright minds thrive.