Sam Guest, a Senior Recruitment Officer based at the Sheffield University Management School, is taking on the Big Walk because he knows exactly how Genetic Disease Research can have a lifelong impact for people like him.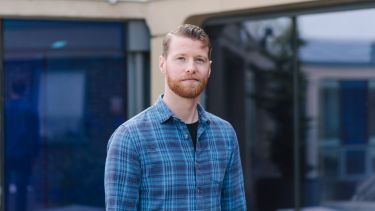 Off
Sam grew up with Cystic Fibrosis (CF) and although he was diagnosed at 4 weeks old, it was only in his teenage years that it began to cause problems for him. 
"CF made it so I would cough most of the time due to thick amounts of sticky mucus and I'd be tired easily. There would always be pressure on my lungs when doing exercise."
Sam adds that he was underweight because his body could not absorb fats very well. This resulted in needing around 4,000 calories a day to sustain his body's daily functions.
Cystic fibrosis is a progressive, genetic disease that causes persistent lung infections and limits the ability to breathe over time – there are around 8,000 people living with cystic fibrosis in England, which is the second highest proportion in the world. NHS England Website
CF also led to further complications for Sam, and in his late teens he was diagnosed with CF-related diabetes.  
However, thanks to medical research, Sam's life was changed for the better. In November 2020, the development of a new treatment called Kaftrio gave Sam renewed hope as the drug was made available on the NHS. 
I feel very proud to work for a university that highlights and helps raise funds for fantastic causes such as this. I hope everyone throughout the world one day has access to life changing drugs to help them be the best version of themselves. Because right now my only limitation is my imagination."

Sam Guest

Big Walk participant 2022
Dubbed the "miracle drug", Sam explains "Kaftrio has drastically increased my life expectancy as well as removing the symptoms of CF. I no longer feel tired, produce next to nothing in terms of the mucus. I can absorb fat better, which has increased my weight by a stone and a half through normal eating! Within 2 days of taking Kaftrio my lung function went up by 28%."
He adds: "When I was born, the mortality rate was 13 for patients with CF. It's now thankfully mid-50s. And with continuing research, it'll hopefully be much higher in the future. Kaftrio covers 90% of people with CF worldwide!"
"I am excited to be walking with my friends from work who I've known for several years now. Again this is all for a fantastic cause and I hope to be able to contribute to the lifesaving research that in turn will one day help others have a better quality of life."
---
You can help rewrite the future for thousands of people. With your kindness today, you'll help develop gene therapy treatments. And you'll bring hope to people like Sam.
Cystic Fibrosis is just one of hundreds of genetic diseases that could one day be treated using gene therapy. For patients living with rare genetic conditions, this can't come soon enough. Although individually uncommon, collectively it's estimated rare diseases affect up to 10% of the world's population. Most affect children and many are fatal or severely disabling. 
Gene therapy also has potential to treat genetic forms of common conditions like MND, dementia and hearing loss. The impact of your help today could be huge.
The University of Sheffield community aims to raise £200,000 by 31 July to fund a state-of-the-art Bioreactor. This will help a leading team of scientists to produce gene therapy treatments for a number of genetic diseases. 
With your help, Sheffield's researchers will be able to engineer bespoke genes to replace or silence faulty ones, in the form of a safe 'viral vector'. The new Bioreactor will help accelerate their research into clinical trials with patients.
The team behind this pioneering technique has already shown it works. Professor Mimoun Azzouz has helped to turn his research into a successful treatment for babies with another genetic condition: Spinal Muscular Atrophy. Gene therapy really is saving lives and has the potential to do so much more.
Join an unstoppable community of donors
United in your passion for Sheffield and how it can shape the world, together you'll help bright minds thrive.