Sheffield Half Marathon sign up
The Sheffield Half Marathon is on Sunday 27 September 2020, and we are looking for an enthusiastic bunch to join the University of Sheffield's team.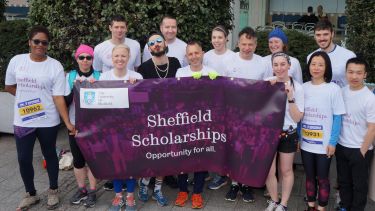 The Sheffield Half Marathon is now on Sunday 27 September 2020, postponed from the initial date of Sunday 29 March 2020. The new date will see 10K and Half Marathon runners coming together on one day, and we are looking to bring together a team of enthusiastic runners to join.
Please register your interest if you would like to be on our 10K or Half Marathon team
We are really excited to be supporting Parkinson's Disease research through our Community Fundraising this year. Parkinson's Disease currently affects around 145,000 people in the UK - that's around one in every 350 adults. There is currently no cure and no way to stop the disease from getting any worse. Here in Sheffield, our researchers are playing a leading role in the search for new treatments that tackle the disease itself - not just the symptoms - and keep patients well for longer. All of your fundraising will help support this vitally important work.
Matt Robson, from the Department of Journalism Studies, ran the Sheffield Half Marathon last year for the University and has some words of encouragement for this year's team: "I like running and the Sheffield Half Marathon is the challenge I need to keep me training through the winter when it's dark, wet and cold. Running up and down Sheffield's infamous hills is also sufficiently stupid to persuade other people to sponsor you to do it."
So what are you waiting for?
Register your interest for the University Half Marathon Team