Donating your body to the University of Sheffield Medical School is a valuable gift - your donation will become an important resource for training healthcare professionals.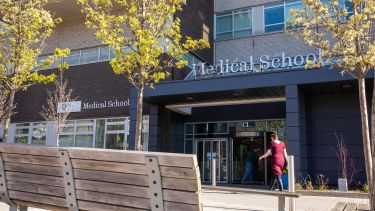 The University of Sheffield is one of a number of establishments which accept whole body donations after death. The majority of donors we accept are from the local area. Our catchment area covers postcodes starting 'S' and 'DN1-13'.
If we are able to accept the bequest, a donated body can be used for a number of purposes, which may include:
Anatomical examination – teaching students or healthcare professionals about the structure and function of the human body.
Education and training – training healthcare professionals in surgical techniques. 
The anatomy teaching facility is known as the Medical Teaching Unit. It has two large laboratories where undergraduates and postgraduates studying subjects including medicine, dentistry, biomedical sciences and bioengineering study human anatomy.
There are many individual motivations for donation as there are individual donors, but a recurrent theme is a desire to make a contribution to the advancement of medicine and associated professions, and to be 'useful' after death. Body donation is often a family tradition, with spouses or multiple generations having donated.
If you wish to register for whole body donation, the Human Tissue Act 2004 requires that you give written and witnessed consent to the donation during your lifetime. Consent cannot be given by a third party either before or after death. Valid written consent is a legal requirement and bequests cannot be accepted without this. Valid consent is considered as one of the following: 
Completion of Human Tissue Act consent form
An appropriately worded Will
An appropriately worded, signed and witnessed letter
Human Tissue Act information booklet (PDF)
To request an information pack please complete our online form
---
Find out more
Wendy Howard
University Bequeathal Officer
Call: +44 (0) 114 222 4642
Email: w.howard@sheffield.ac.uk
Isabelle Heyerdahl-King
University Medical Teaching Unit Manager
Call: +44 (0) 114 222 4631
Email: i.heyerdahl-king@sheffield.ac.uk
Medical Teaching Unit
c/o Department of Biomedical Science
University of Sheffield
Sheffield
S10 2TN