Your regular gift to the University will make a huge difference. You'll help provide scholarships for disadvantaged students, fund our pioneering research and help all students fulfil their potential.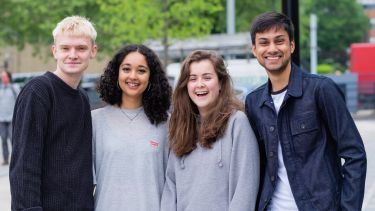 ---
When you make a regular gift, you'll join over 1,600 other regular donors. Your gifts really will add up to change lives through education. 
£5 per month will help a student to join a society, when they'd struggle to afford it otherwise - giving them the chance to make friends and learn new skills.

£10 per month will help fund a scholarship for a student from a disadvantaged background - that could be the difference between them coming to university or not.

£20 per month will help further research into diseases like Parkinson's, Alzheimer's and motor neurone disease - helping patients through new treatments.
---
I'm so grateful to everyone who donates. Knowing that there are people that believe in me and want me to achieve is truly heart-warming. Thank you so much!

Salma Ghafoor

Medical student and scholarship recipient
---
However much you choose to give, by making a gift to the 'areas of greatest need' you'll help all of these important areas:
Scholarships 
Opening up the doors of the University to all students, regardless of their financial or personal circumstances.

Research
Finding real-world solutions to pressing global challenges.

Student experience
Providing activities and opportunities to students throughout their time at university.
If you prefer, you can also direct your gift towards a particular area. We want to ensure that your donation is supporting a cause close to your heart.
---
What you need to know
You can give monthly, quarterly or annually by Direct Debit. 
As the University is a charity (exempt charity X 1089) you can also claim Gift Aid if you're eligible.