Supporting refugees and asylum seekers
As a City of Sanctuary, Sheffield has a history of providing a welcome and hospitality for refugees and asylum seekers. We're proud to be part of this in our role as a University of Sanctuary.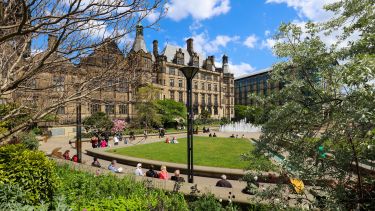 At the launch of Refugee Week 2007, the Mayor of Sheffield announced that the City Council had pledged support for a new project: City of Sanctuary. It meant Sheffield was the first City of Sanctuary in the UK – the first city to make a public pledge to welcome asylum-seekers and refugees.
What started as a way for individuals and groups across the city to come together and highlight a culture of acceptance and solidarity grew into a project that resonated in so many places – there are now more than 60 cities involved.
Having welcomed refugees and aslylum seekers for decades, it was natural for our University to mirror this movement within our own community, and we committed to becoming the first University of Sanctuary.
We have staff, students and alumni who were refugees and our academic staff work with refugees in the city. We're associated with Cara, an organisation that helps academics in immediate danger, those forced into exile, and many who choose to remain in their home countries despite the serious risks they face.
---
We're committed to supporting students who have sought asylum in the UK through scholarships, services and a dedicated asylum seeker contact.
Our Asylum Seeker Scholarships are for students studying undergraduate degrees or postgraduate masters courses.
---
Migration Matters festival
This eight-day festival celebrates Sheffield's status as the first City of Sanctuary and is held during the UK's Refugee Week.
For the 2020 Migration Matters festival, our academics hosted free online events alongside international artists, helping to celebrate sanctuary and recognise the contribution migrants and refugees make to our communities. Experts presented their research on young refugees' journeys to the UK, and life as a German refugee in 1930s Britain.
Each year, our academics showcase their research through the city-wide Migration Matters Festival.
---
A personal perspective
Abdi-Aziz Suleiman came to the UK and to Sheffield as a child as an asylum seeker from Somalia. As President of our Students' Union he co-founded the #WeAreInternational campaign with the Vice-Chancellor.
In this article, posted on the New Statesman in 2015, Abdi reflects on society's idea of a 'good' and 'bad' migrant and why we shouldn't allow anyone to convince us not to have empathy.
Inspirational academics
Tim Herrick is a Senior University Teacher in the School of Education at the University of Sheffield. Tim is a Senate Award Fellow and a CILASS Fellow.
Here he talks about his inspiration for teaching and his work with people from asylum seeker backgrounds.
An interview with Sheffield alumnus Edmund de Waal
Award-winning artist, writer and Sheffield alumnus Edward de Waal gifted the University a piece of art in response to our work to welcome staff and students from around the world, including those seeking refuge and asylum.
In this feature on Edmund de Waal we learn about Edmund de Waal's family history and his practice as an artist and a writer.
---
Supported by

Our partners

Local charities

British Red Cross refugee support in Yorkshire – A global voluntary network, helping people in crisis, whoever and wherever they are.

City of Sanctuary Sheffield – Welcoming and supporting refugees and asylum-seekers to the city. We're proud to be part of this in our role as a University of Sanctuary.

Sheffield Association for the Voluntary Teaching of English – Recruits and trains volunteers to teach English and give people life-changing language skills.

Sheffield Help Yourself directory – A list of Sheffield projects or places relevant to Asylum Seekers.

Sheffield Student Action for Refugees – Raising awareness about refugees and asylum seekers in the UK and worldwide.

South Yorkshire Migration and Asylum Action Group – Group of many nationalities and political viewpoints acting together for asylum and migrant rights.