Pre-departure information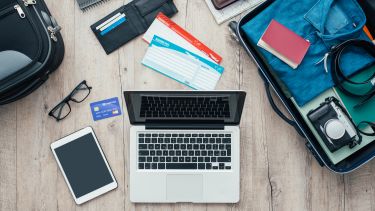 Spending time abroad is an amazing opportunity and one you will remember for the rest of your life. Whether you are an experienced traveller or not, there are some things you need to consider when going abroad. It's essential you attend your pre-departure meeting as this will brief you on all the necessary steps and actions you need to carry out before going abroad.
Upcoming pre-departure meetings
You should also read through the following sections to check if you need to take any action.
---
Travel Insurance
All students undertaking a period abroad approved by the University must take out the free University travel insurance. Travel and personal accident cover is available for study related travel which involves an overnight stay, a flight or rail travel. The policy covers exchanges and placements for up to 12 months.
Personal travel can be covered for up to 2 weeks beyond the end of the mobility as long as it takes place within the same country and is within a 12 month duration. The additional time must be included within the start and end dates when registering for the policy. Policy excesses and exclusions (e.g. mobile phones) apply.
Further information and apply for cover
Some host countries and universities require you to take out health insurance. This is not the same as travel insurance and you should still take out travel insurance through the link above.
Students undertaking work placements
You may not be covered for Employer's liability within the workplace due to national employment laws. Check if this applies to you. If so, you will need to seek an insurance policy in the host country to cover you for that item. This is not included in the University of Sheffield travel insurance.
---
Travel arrangements
You are responsible for making your own travel arrangements. You should not make any bookings until you have been accepted by the host university and you know when you are required to arrive.
Some general advice...
What about travelling with other Sheffield students? Find out who else is going to the same destination and contact them as early as possible to make joint arrangements

Try to arrive during business hours so that staff/contacts might be available

Download a map and some basic directions to print off before you leave the UK - you may not have internet access when you arrive

Find out if there is a "meet and greet" service that you can use

If you have pre-arranged your accommodation, make sure that you know exactly when and where to collect the keys

If you are planning to drive in the host country check if your driving licence is valid and remember to take out or extend existing insurance coverage

Can't carry everything you want to take? Make enquiries with your travel agent about sending unaccompanied luggage
---
Accommodation
Host university housing
If it's available, your host university should send you details on how and when to apply. Applying for accommodation may be part of the application to your host university.
Apply as early as possible before the deadline and check that your application has been received
University housing can be limited in some countries and you may not be guaranteed a room - be prepared that you might not get a place
The quality of student housing can vary due to each country's funding systems - try to be open-minded about this
It is common outside Europe for university accommodation to offer shared rooms, sometimes with a compulsory meal plan
Some universities will offer gender-specific accommodation, which may come with additional rules
Talk to students who have lived in the host university residences - ask for their feedback and recommendations
Private housing
Your host organisation may be able to offer some limited guidance but you are responsible for making your own arrangements
You may need to have accommodation secured as part of your visa application, so start your search as early as practically possible
If possible, arrive early to give yourself plenty of time to find something
Be prepared that you might have to live in temporary accommodation if you have not secured accommodation before you leave the UK
Use all available resources and find out which one is most commonly used by local residents
Seek advice from incoming or returning exchange students
Beware of scams! Don't sign a contract or pay a deposit until you have seen the property in person and met the owner/estate agent
Try not to go for viewings on your own and insist on meeting owner/estate agents in daylight hours
Letting your room in Sheffield to another student
If needed, you can advertise your room to other students (including incoming exchange students) via the Smart Move Sheffield student message board. This is a message board that is monitored by the University's private housing bureau, Smart Move Sheffield. 
Be aware:
You must have permission from your landlord before you advertise your room
The University cannot be involved in any negotiations/disputes between you and your replacement tenant
---
Risk assessments
All students who undertake activities abroad which are organised by the University of Sheffield, must complete a risk assessment for each activity. If you are doing multiple activities in the same country (i.e. a study placement and a work placement), you will need to complete an assessment for each activity.
The risk assessment is designed to help you think about potential risks you may encounter whilst abroad and encourage you to think about the steps you need to take to ensure you are safe. To help you, there are guidance notes and part of the risk assessment has already been completed with common travel risks. You can discuss your risk assessment with Global Opportunities and your department before submitting it.
The risk assessment should be satisfactorily completed and signed by your home department before you leave Sheffield. 
The risk assessment and guidance notes are available on the Insurance webpage.
---
Health Insurance
Global Health Insurance Card (GHIC)
Students going abroad to Europe will need to apply for a Student Global Health Insurance Card (GHIC). A Student GHIC is a special time-limited GHIC for students doing a study or work placement that lasts over 6 weeks in the EU/EEA, apart from in Norway, Iceland, Liechtenstein or Switzerland. A regular GHIC is not valid for a placement abroad.

The exception to this is for students currently in or going to Norway, Iceland, Liechtenstein or Switzerland where the GHIC is not valid. Students will need to purchase their own health insurance for the duration of their mobility.
Students who are normally resident in the UK and undertaking an exchange in Europe should apply for the Student GHIC covering the duration of the period abroad. This entitles you, and any dependants, to state-provided healthcare during your period abroad in the included countries.
You must apply through the NHS webpages. SSiD can provide you with a letter from the University confirming your period abroad arrangements as well as the Home Address letter. Both documents are necessary for the application. You can contact SSiD through their webpage.
Medication and going abroad
The maximum amount of a regular prescription the University Health Service are able to issue to a patient travelling abroad is 3 months, any further prescriptions should be sought from a clinician in the country you are staying in. This is the case even if you return to the UK periodically.
Please seek any further prescriptions from a clinician in the country you are staying in, until you are living in the UK full-time again. 
If you require a letter detailing the medication you take, contact UHS reception, or your GP if you are registered elsewhere, in good time before you leave. There may be a charge for this. 
NHS information about taking medication abroad
---
Visa requirements
UK nationals are able to travel in the Schengen area for 90 days out of every 180 days without a visa. For any academic periods abroad that will be more than 90 days, students will likely need a visa. Students may also need to apply for a residence permit. 
Information about visa applications can be found on the relevant Embassy webpages, and some country specific advice can be found on the FCDO Living In... country webpages.
You can only apply for a visa when you have received the official immigration document and offer letter from your host university or organisation. You should ensure that you begin your application as soon as possible after you have received the official paperwork as it can take time for a visa to be issued. 
Global Opportunities can provide you with information and signpost you to resources. You must contact the host university or organisation and the relevant Embassy if you require visa advice. 
Students currently studying in the UK on a visa
If you are currently studying in the UK on a visa, then seek visa advice through International Student Support, Advice and Compliance.
---
Registration
You must complete your online registration with the University of Sheffield in mid-July even though you will be abroad. Further information is available on the SSiD webpages.
Where you are on a University exchange, you must complete their registration process once you arrive. 
Study Abroad handbook
You can download our handbook for more advice and information.