Sheffield International Summer School
2023 Summer School: Addressing Global Challenges through Materials Science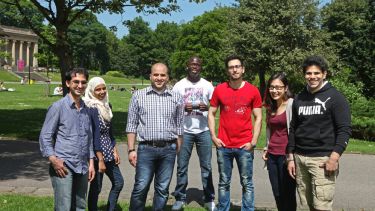 Further details and more information to be published in 2022.
At the University of Sheffield, we are dedicated to tackling some of the world's most pressing challenges. Our world leading Materials Science experts, across all of our five Faculties and the University of Sheffield Advanced Manufacturing Research Centre (AMRC), are working to provide answers to climate change, environmental sustainability, food security and global health issues. This summer school will introduce students to a range of topics from the exciting world of 2D materials and how they are used for renewable energy, to the field of polymer science and how it enhances drug delivery, as well as exploring how laser science enables material characterisation, and how the science of plant symbioses improves food production.
This summer school will give you the opportunity to work with our internationally renowned researchers and access some of the most advanced research facilities in the world as you discover how science is used to improve the well-being of our societies. You will experience first-hand what it's like in our laboratory and perform hands-on experiments. You will acquire skills and knowledge that will help you succeed in your studies and advance your career aspirations as a scientist.
Outside the classroom, the summer school will give you the chance to connect with like-minded students from across the world and explore the UK's cultural heritage.
Eligibility and how to apply
To apply to our summer school you should:
Be aged 18 or over on the first day of the course.

Have successfully completed at least one year of a science-related undergraduate degree at a University outside the UK, or be registered as an International student at a UK university.

Be able to demonstrate good academic grades, based on a (translated) transcript verified by your University.

If English is not your first language, meet our minimum English language requirements of IELTS 6.0 or above, with at least 5.5 in each component, or equivalent. We are able to accept a range of exam certificates as proof of your proficiency in English, please read about our English language requirements for details.
As part of the application process you will be required to submit a maximum 300 word statement explaining your motivation for applying to the summer school, including which aspects of materials science interest you the most and how you think materials science can be used to address global challenges.
If you have any questions about the summer school or the application process, contact Global Opportunities.
Events at the University
Browse upcoming public lectures, exhibitions, family events, concerts, shows and festivals across the University.