Graduation is a proud day for everyone involved. The information below should answer any questions you may have regarding this special day.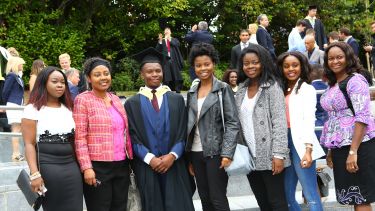 Preparing for graduation day
We look forward to welcoming you to The University of Sheffield. Below you can find information on how to prepare for your loved one's graduation ceremony.
Dates and times of ceremonies

Visit our dates of upcoming ceremonies page. 

Venue, travel and parking

Graduation ceremonies are held in Convocation Hall, The Octagon Centre, with related activities for graduands and their guests (such as gown hire and photography) taking place in the Students' Union next door. The Octagon Centre and Students' Union can be found at map reference D4 (118) and E4 (120) respectively on the Campus Map.

We strongly advise planning to arrive on campus at least 90 minutes before the start time of the ceremony.

Security

The safety and security of visitors to the university is our highest priority. With this in mind, there will be person and bag searches on entry.

No bag larger than a small handbag will be allowed into the building. Please do not bring large bags or suitcases to the Octagon Centre. Please be assured that the male and female staff conducting them are trained in-person searches and will conduct them appropriately and with dignity.

We would ask that guests be patient and understand that these heightened security procedures may impact on queue times and/or the prohibition of items permitted in the Octagon Centre.

Alcohol is not permitted in the Octagon Centre and anyone who appears to be under the influence of alcohol will not be permitted entry.
Please arrive as near as possible to the published opening times. Please bear in mind that you will need to arrive, robed, at the published time for your ceremony. Graduands will be given priority access to the Octagon Centre.

Tickets

The graduand you are accompanying will request guest tickets on your behalf when they register for graduation. Each graduand is guaranteed a maximum of two guest tickets for family or friends who wish to attend the ceremony. We recognise that limiting guest tickets in this way may cause disappointment, but you will appreciate that the seating capacity of the hall is limited.

Please do not make expensive travel arrangements for guests who do not have tickets as we will not be able to accommodate them. 

Guests with special requirements

Your graduand was given the opportunity to advise us of any special requirements when they registered for graduation. Therefore, suitable seats will be reserved in the hall for guests with disabilities or mobility difficulties. Induction loop facilities are available in the hall for those with hearing impairments and we can also make arrangements for a BSL signer to be available, providing we are advised when the graduand registers for the ceremony.

Due to data protection laws, we cannot confirm to a third party if a graduand has made arrangements. Therefore, please ask your graduand to ensure they have advised us of any special arrangements of this nature.

Live screening of the ceremonies

If you don't have a ticket to the ceremony but would like to join in the celebrations on the day, the ceremonies will be streamed in the Students' Union Auditorium across the two weeks in July. 

You can also watch the ceremonies on our website. Each ceremony is also broadcast live online, enabling you to watch from anywhere in the world. The stream will go live 30 minutes prior to the start of each ceremony. 

Week commencing 18th July
Week commencing 25th July

The recordings will be available to view afterwards for a limited amount of time. 

Souvenir programme

Graduation programmes are free of charge and copies are available in Convocation Hall, Octagon Centre for all graduands and guests.
---
On-the-day information
See guidelines below for timelines and procedures for graduation ceremonies.
Door opening times for guests

Doors to guests will be opened approximately 40 minutes prior to the start time of the ceremony, or as soon as possible once all graduands are seated. Guests should be in their allocated seats 10 minutes before the start of the ceremony.

Doors to the hall will be closed 10 minutes prior to the start of the ceremony. Graduands and guests not seated by this time will not be admitted.

Guests with children

We do not recommend children are taken to the ceremony, due to the length and formal nature of proceedings. Children attending the ceremony over the age of three must have a ticket. We respectfully request that children who become noisy or restless during proceedings are taken out of the hall immediately.

Due to health and safety restrictions, prams are not allowed in the hall and should be left in the complimentary cloakroom.

Photography and film

Guests are welcome to take photographs and record the ceremony but this must be done from your seat so as not to obstruct the view of other guests or interfere with proceedings.

Movement during the ceremony

Wherever possible, guests are requested to remain seated for the duration of the ceremony.

Ceremony length

We expect each ceremony to last between 60 and 90 minutes.

Dress code for guests

There is no official dress code for guests, however the ceremony is a formal occasion and most people choose to dress smartly in accordance with this.

Graduand/guest conduct

Graduands and guests are expected to behave in a manner fitting for the occasion. Any person who becomes disruptive will be asked to leave the hall.

Covid-19 guidance

Given the ongoing situation with Covid-19, keeping staff, graduates, and guests safe is our utmost priority. 

With this in mind, we are asking graduates to doff the cap instead of shaking hands when they cross the stage.

Public health advice says that while you're no longer legally required to self-isolate if you have Covid-19, you should try to stay at home and away from others if you have symptoms or if you have tested positive to avoid passing on the virus. 

The wearing of face coverings is a personal choice, it is no longer mandatory to wear face coverings in indoor settings at the University.  We should continue to be respectful of those that choose to continue to wear face coverings and also those that don't.

The University will be doing the following at the ceremonies:

-Ensuring the venue is well ventilated
-Ensuring that the flow of attendees is managed and controlled into and out of the venue
-Providing hand sanitiser throughout the venue
-Cleaning the venue throughout the day
A world top-100 university
We're a world top-100 university renowned for the excellence, impact and distinctiveness of our research-led learning and teaching.