March 2022 graduation ceremonies
These pages are for undergraduates who completed in Summer 2020, postgraduate taught and research graduates who were conferred up to and including August 2020.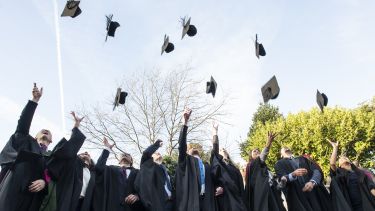 Watch the March ceremonies from Monday 7 March
Before the day 
Eligibility and registration

The scheduled March ceremonies are intended for undergraduates who completed in Summer 2020, postgraduate taught and research graduates who were conferred up to and including August 2020. Invitations will be sent by email to those who are eligible.

Registration has now closed. The deadline to register was Monday 24 January 2022.

Robe hire

It is a University regulation that all those being presented at a ceremony wear the correct academic dress. You should hire or purchase these directly from the official robe makers for the University, Ede & Ravenscroft. Robe hire is now closed. If you still need robes please contact Ede & Ravenscroft on the details below.

Robing timetable

Robes will be available for collection from Uni Central on Level 4 of the Student Union Building at the following times:

9.30am ceremonies - collect between 7.30am and 8.40am
12.15pm ceremonies - collect between 9.15am and 11.35am (please note robing doesn't open until 10.00am on Monday)
3.45pm ceremonies - collect between 12.15pm and 3.00pm

Robes must be returned no later than 6.00pm.

Cancelling your robe hire

If you find that you cannot attend your ceremony, Ede & Ravenscroft will refund your gown hire payment, but will charge a small administration fee, provided that they receive your claim for refund 7 full days before the date of your ceremony.

You can cancel your order using the 'Review/Amend/Cancel' option on their website. Please note that for security reasons, Ede & Ravenscroft cannot accept cancellations over the telephone.

Dress code

The ceremonies are formal occasions and we recommend that candidates dress smartly. We welcome national dress and military uniforms. Jeans, t-shirts, trainers and similar casual attire are not considered appropriate for graduation ceremonies.

Contact details for Ede & Ravenscroft

Telephone: +44 1223 861 854.
Email: student@edeandravenscroft.co.uk
Web: www.edeandravenscroft.co.uk/graduation-services/mend/Cancel' option on their website.

Please note that for security reasons, Ede & Ravenscroft cannot accept cancellations over the telephone.

Your name

Ensure your name is printed and pronounced correctly on your graduation day.

At graduation your forename and surname (as held on your student record) will be announced as you cross the platform. If you have a name that is frequently mis-pronounced, you may wish to provide guidance on how your name should be said correctly. The information you provide will then be added to the presenter's script.

Name pronunciation is now closed.

Tickets and seat allocation

Graduate tickets

You can download your tickets
here
**Please note: When you download your e-ticket please check the date and time to check it isn't referring to an old ceremony**
 

Guaranteed tickets

Two guest tickets are guaranteed for each graduate attending. This is in addition to your own ticket of admission as a graduate. We sent an email regarding extra tickets. Please email graduation@sheffield.ac.uk if you have any questions.

Ceremony schedule

The schedule is available here.

Terms and conditions

Cancellation or postponement of the event

While every effort will be made to host graduation ceremonies as planned, the University may cancel, delay, or postpone its graduation ceremonies due to circumstances beyond its control or where ceremonies can no longer reasonably or safely take place.

In the event of any postponement or cancellation, the University will communicate this clearly on its website and will contact each attending student directly with as much notice as is reasonably practical.  

The University will not be liable for any costs incurred by either the graduand or guests due to postponement or cancellation of the event.  This includes, but is not limited to, travel, accommodation and subsistence costs or any loss of business or earnings.  

Therefore, the University strongly advises that graduands and their guests ensure they have sufficient insurance protection to cover any losses they may incur as a result of postponement or cancellation of ceremonies and book flexible rates for travel and accommodation wherever possible.

---

Academic robes

By confirming your attendance at graduation, you the graduand confirm that you agree to wear official University of Sheffield academic robes provided by our robing company Ede & Ravenscroft Ltd at the ceremony.

---

Graduand and guest conduct

Graduands and guests are expected to behave in a manner fitting for the occasion. Any person who becomes disruptive will be asked to leave the hall.

Visas

Information relating to visas for graduation can be found here.

Checklist 

Check you have done everything you need to before the day and also what to expect on the day here.
On the day
Venue, travel and security 

More information can be found here.

Graduates instructions

Please read all of the information here.

What happens in the ceremony

Before the ceremony

-Graduands need to be seated in the hall 40 minutes prior to the ceremony start time. This is because University marshals will undertake student registration from their seats. Graduands sit in the two front blocks, seat numbers are on all e-tickets. 

-Each ceremony lasts between an hour to an hour and a half.

-Guests can sit anywhere in the guest section of the hall.

-There will be a keepsake graduation programme on all graduands seats. Programmes for guests can be found in the dispensers around the hall.

---

In the ceremony

-Everyone in the hall will stand for the staff and officers processions. The two processions will make their way on to the stage.

-The Presiding Officer (either the Chancellor, President and Vice-Chancellor or Vice-Presidents) will declare the congregation open, ask graduands and guests to be seated and give a few words of welcome.

-University staff marshals will pull graduands out of their rows and re-check names. As graduands leave their seat they must ensure they follow the graduand immediately in front of them. Graduands must not change position in the queue.

-Once graduands are at the bottom of the stairs their names will be checked again. There will also be a member of the Edes and Ravenscroft robing team to check robes.

-Graduands will ascend a short flight of steps, with a handrail, on to the platform. Names will be checked again and then read out by the Presenter.

-Graduands will walk across the stage, doff the cap to the Presiding Officer and descend the steps at the other end of the stage.

-Once off the stage University staff stewards will direct graduands back to their seats.

-Some ceremonies will have a senate award, honorary degree or both. This is usually presented in the middle of the ceremony.

---

After the ceremony

-After all students have been presented, the Presiding Officer will deliver a short closing speech.

-Following the speech, the Presiding Officer will declare the congregation closed and ask graduands and guests to stand for the exit of the staff and officer's processions.

-Once the staff and officer's processions have left, the University marshals will lead a graduand procession. The graduand procession will lead out to the Octagon Foyer or Octagon Bar area depending on the block.

-Once in the Octagon Foyer and Octagon Bar area, graduands must leave the Octagon via the main doors and meet guests outside on the concourse.

Photography and souvenirs

Official photographs

The official graduation photographers are Ede & Ravenscroft Photography and you will find them located in the Students' Union on each day. You can pre-pay for photographs when you purcahse your robes or just turn up on the day and pay.

Opening times:
Monday: 9.30am -6.00pm
Tuesday-Friday: 7.30am - 6.00pm

Location:
Level 4 Students' Union

---

Official graduation film

Your graduation ceremony will be recorded by the University and will be available for you to purchase on a USB memory stick. You can order your ceremony via the Online Store. 

---

University gifts and souvenirs

University gifts and souvenirs are an excellent way to remember your time at the University of Sheffield. A full range of gifts and souvenirs, including 'Made in Sheffield' items, will be available for purchase in the foyer of the Octagon Centre on graduation days.

Graduation live stream

All of the ceremonies will be live streamed from Monday 7 March 2022.

Dining and facilities on campus

Inox Dine will be open throughout the week. Find the menu here
The Interval will be open and the ceremonies will be available to watch in here
The Students' Union will be open, including the shop and Coffee Revolution
University cafes will be open throughout the week including Krebs, The Arts Tower and Jessop West which are all near to the Octagon Centre. 

Honorary graduands

Professor Tim Kendall - Doctor of Medicine - Monday 7 March 12.15pm 


Professor Tim Kendall is NHS England's National Clinical Director for Mental Health and Chair of the Programme of Care Board for Specialised Commissioning, and the Director of the National Collaborating Centre for Mental Health, a collaboration between the Royal College of Psychiatrists and University College London. A medical graduate of the University of Sheffield, he has led the transformation of psychiatric care and, in addition to his national roles, remains a practising psychiatrist in Sheffield.

The Rt Hon Lord Burnett of Maldon - Doctor of Laws - Tuesday 8 March 12.15pm

Lord Burnett studied law at Oxford University and was called to the Bar in 1980, becoming a QC in 1998. He was junior counsel to several  important inquiries, including the Guildford Four convictions, and he was lead counsel to the inquests into the deaths of Princess Diana and Dodi al Fayed. Following his appointment to the High Court and then to the Court of Appeal, he became Lord Chief Justice of England and Wales in 2017.
 
Jonathan Seaton, MBE, DL and Susie Seaton - Doctors of Science - Wednesday 9 March 12.15pm

Jonathan and Susie Seaton are the founders of Sheffield-based digital education publisher Twinkl, which offers over 750,000 online resources for both school and home learning. The company employs over 700 staff in 15 locations around the world, including a second office in Australia, and has received two Queen's Awards for Enterprise. In 2020, Jonathan was appointed MBE in the Queen's Birthday Honours for services to technology and education during Covid-19, and became a Deputy Lieutenant for South Yorkshire.
 
Emeritus Professor Pamela Enderby, OBE - Doctor of Science - Thursday 10 March 12.15pm

Professor Pam Enderby is the President of the International Association of Communication Sciences and Disorders, and a former Chair of the Council of the Royal College of Speech and Language Therapy and President of the Community Rehabilitation Team Network. Emeritus Professor of Community Rehabilitation at the University of Sheffield, she served as Head of the Department of Communication Sciences and Dean of the Faculty of Medicine. She was appointed OBE in 2018 for services to speech and language therapy.
 
Poppy Gustafsson, OBE - Doctor of Science - Friday 11 March 12.15pm

Poppy Gustafsson is Chief Executive Officer of the cyber-security firm Darktrace, which creates immune systems to protect businesses from cyber attacks. The company was launched on the London Stock Exchange in 2020, and has 6,000 customers and 1,600 employees worldwide. A mathematics graduate from the University of Sheffield, she was appointed OBE in 2019 for services to the cyber-security industry, and she was named CEO of the Year at the Europe-wide Digital Masters Awards 2021.

Useful information for guests 

Family and friends attending may find these pages useful to read before the day.

Certificates 

Certificates will not be given out at March ceremonies. Graduands should have already received their certificate. For any queries regarding certificates please email graduation@sheffield.ac.uk.
Covid-19
March graduation and Covid-19

Our graduation ceremonies will follow the latest Covid-19 guidance from the UK Government and Sheffield City Council. The health and safety of our guests and staff is our utmost priority. 

We will be asking students to doff the cap instead of shaking hands when they cross the stage.

The wearing of face coverings is a personal choice, it is no longer mandatory to wear face coverings in indoor settings at the University. We should continue to be respectful of those that choose to continue to wear face coverings and also those that don't.

We are also encouraging students and their guests to:

-Continue testing, if you can access free tests, in the interests of helping to protect our community,
-Not attend graduation if anyone tests positive for Covid-19 or experiences Covid-19 symptoms
-Use hand sanitiser when entering the building

The University will be doing the following:

-Ensuring the venue is well ventilated
-Encouraging staff to take a lateral flow test if they have access to them
-Encouraging staff to wear masks throughout the event unless speaking on the stage
-Ensuring that the flow of attendees is managed and controlled into and out of the venue
-Providing hand sanitiser throughout the venue
-Cleaning the venue frequently with regular touch points being sanitised throughout the day
A world top-100 university
We're a world top-100 university renowned for the excellence, impact and distinctiveness of our research-led learning and teaching.