May 2022 graduation ceremonies
These pages are for postgraduate taught graduates who completed in November 2020, research graduates who were conferred between October 2020 and January 2021 and undergraduates who were conferred between October 2020 & April 2021 and in August 2021.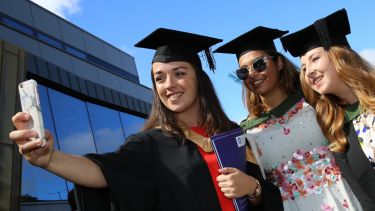 Before the day  
Eligibility and registration

The scheduled May ceremonies are intended for postgraduate taught graduates who completed  in November 2020, research graduates who were conferred between October 2020 and January 2021 and undergraduates who were conferred between October 2020 & April 2021 and in August 2021.

Robe hire

It is a University regulation that all those being presented at a ceremony wear the correct academic dress. You should hire or purchase these directly from the official robe makers for the University, Ede & Ravenscroft. Details on how to hire robes will be available in due course.

Your name

Ensure your name is printed and pronounced correctly on your graduation day.

At graduation your forename and surname (as held on your student record) will be announced as you cross the platform. If you have a name that is frequently mis-pronounced, you may wish to provide guidance on how your name should be said correctly. The information you provide will then be added to the presenter's script.

You can provide guidance quickly and easily by completing a short online form here (available soon).

The deadline to complete the name pronunciation form is to be confirmed. 

Tickets and seat allocation

Guaranteed tickets

Two guest tickets are guaranteed for each graduand attending if requested at the time of registration. This is in addition to your own ticket of admission as a graduand. These two guest tickets are only guaranteed if you request them when you register for graduation and your registration is received by the deadline of to be confirmed.

Additional tickets

It is unlikely that tickets over the two guaranteed will be available. However, if further tickets are available, you will be notified.

Terms and conditions

Cancellation or postponement of the event

While every effort will be made to host graduation ceremonies as planned, the University may cancel, delay, or postpone its graduation ceremonies due to circumstances beyond its control or where ceremonies can no longer reasonably or safely take place.

In the event of any postponement or cancellation, the University will communicate this clearly on its website and will contact each attending student directly with as much notice as is reasonably practical.  

The University will not be liable for any costs incurred by either the graduand or guests due to postponement or cancellation of the event.  This includes, but is not limited to, travel, accommodation and subsistence costs or any loss of business or earnings.  

Therefore, the University strongly advises that graduands and their guests ensure they have sufficient insurance protection to cover any losses they may incur as a result of postponement or cancellation of ceremonies and book flexible rates for travel and accommodation wherever possible.

---

Academic robes

By confirming your attendance at graduation, you the graduand confirm that you agree to wear official University of Sheffield academic robes provided by our robing company Ede & Ravenscroft Ltd at the ceremony.

---

Graduand and guest conduct

Graduands and guests are expected to behave in a manner fitting for the occasion. Any person who becomes disruptive will be asked to leave the hall.
 On the day
Venue, travel and security 

More information can be found here.

Photography and souvenirs

Official photographs

The official graduation photographers are Ede & Ravenscroft Photography and you will find them located in the Students' Union on each day.

Opening times:
Details to be confirmed.

Location:
Details to be confirmed.

---

Official graduation film

Your graduation ceremony will be recorded by the University and will be available for you to purchase on a USB memory stick. You can either pre-order your copy in advance or order from the sales desk on the day.

---

University gifts and souvenirs

University gifts and souvenirs are an excellent way to remember your time at the University of Sheffield. A full range of gifts and souvenirs, including 'Made in Sheffield' items, will be available for purchase in the foyer of the Octagon Centre on graduation days.

Graduation live stream

All of the ceremonies will be live streamed. A link to the live stream will be available nearer the time. 

Honorary graduates

Profiles of our honorary graduates for the May 2022 ceremonies will be available in due course.
A world top-100 university
We're a world top-100 university renowned for the excellence, impact and distinctiveness of our research-led learning and teaching.