Alumni relations at graduation
Graduation doesn't have to mean goodbye. Once you graduate, you automatically join our worldwide community of over 190,000 alumni (former students) who continue to be an important part of their university.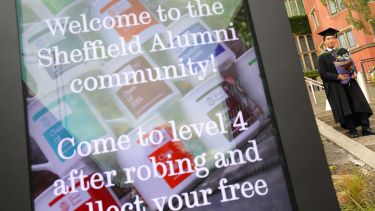 The Alumni Relations Team will be on hand throughout the week to welcome you into the Sheffield Alumni, and help make sure you stay connected after you've finished your course. You can find out more about being an alumnus (male) or alumna (female), update your details to stay in touch with the University, as well as picking up your Graduate Guide, free Sheffield Alumni tote bag and Class of 2020 mug. Bags can't be taken into the graduation ceremonies, but you will be able to collect them once you've graduated, or at any point during the week with our token system.
You can also keep an eye out for us on social media via the #ShefUniGrad hashtag, and make sure to share your photos, especially if you get one with our graduation frame!
---
Wherever you're going, the Alumni Relations team can help you to stay in touch with the University, your class mates, and keep you updated with all the latest news from around campus.
You'll also get the chance to attend exclusive events. We'd love to see you there. There are also networking and volunteering opportunities to enhance your CV and share your experiences, so why not become a Sheffield Alumni Volunteer?
A few weeks after graduation, you'll automatically receive a welcome email explaining about all the benefits and services you can take advantage of, so make sure your personal email address is up to date with us.
Exclusive benefits for alumni include
library access and borrowing
graduate careers advice
networking opportunities and events in the UK and around the world
discounts for hotels, cottages and sports facilities, as well as the University restaurant Inox Dine
10% discount on University of Sheffield Concerts tickets
To find out about all these and more, please visit our Benefits and Services page.
Keep in touch via our social media pages
A world top-100 university
We're a world top-100 university renowned for the excellence, impact and distinctiveness of our research-led learning and teaching.