Venue, travel and security
Graduation ceremonies are held on central campus in Convocation Hall, The Octagon Centre.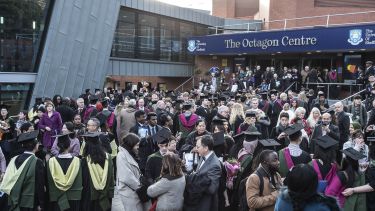 The Octagon Centre has wheelchair access, disabled toilet facilities and a lift. Wheelchair users and guests with mobility difficulties will be allocated special seating providing the Events Team are advised of requirements when you register for graduation.
Special access to the platform can be arranged for graduands who are wheelchair users, however, we do need to be notified of this arrangement well in advance of the ceremony to make special arrangements. Please notify us of any special seating arrangements for yourself or your guests when you register for graduation.
If you require the loan of a wheelchair for the day, your local British Red Cross Association should be able to assist.
---
Further information
Travel

We strongly advise that your guests do not bring a car to the Octagon Centre. Parking is extremely scarce and graduation ceremonies take place on working days for University staff and others in the area. Sheffield has an excellent public transport system and we recommend that you take advantage of this. However you're travelling, we advise you to allow extra journey time so any unforeseen delays do not result in you arriving late or missing your ceremony.

Directions: https://www.sheffield.ac.uk/visitors/mapsandtravel/car
Maps and travel advice: https://www.sheffield.ac.uk/visitors/mapsandtravel

Full address of the venue:
Convocation Hall, Octagon Centre
University of Sheffield
Western Bank
Sheffield, S10 2TN

Park and ride

Supertram park and ride is a very convenient way for visitors arriving by car to travel to the University without having to drive through the city centre and find somewhere to park. For further information on this service, please see our Supertram Park and Ride page and the Stagecoach Supertram website.

Parking

Limited parking is available on Campus at the QPark Durham Road site. This car park has 560 spaces however, as it serves the University, the Childrens Hospital and the Hallamshire Hospital, it gets extremely busy and space cannot be guaranteed.

We would therefore advise parking on the edge of Campus at the QPark Rockingham site if you're driving. This is a 530 space long-stay off-street car park, approximately half a mile from the Octagon Centre.

A map detailing all the car parks in the city centre can be found on the following page: www.sheffield.gov.uk/content/sheffield/home/parking/car-parks.html

If parking on the roads in the vicinity, please remember that urban clearway restrictions apply to most roads, i.e. no parking before 9.30am and after 4.30pm. The remainder tend to have double yellow lines i.e. no parking at all. Traffic police patrol the area regularly. Sufficient parking space cannot be guaranteed so leave plenty of time if you must bring a car.

Due to the limited amount of space available we regret that we are unable to allocate parking spaces for disabled graduands or guests. If your guests have mobility difficulties, we would recommend that these guests are dropped off at the Octagon Centre prior to parking the car. Campus Wardens on duty will assist blue badge holders if requested.

Please ensure you allow plenty of time to get to the Octagon Centre by the time advised.

Traffic

Sheffield is a large city and, like most cities in the UK, does experience heavy traffic at peak times. We advise anyone travelling by car to ensure they take this in to consideration when planning their journey and to always allow extra travel time.

We also advise that you check with the Highways Agency for advice regarding traffic disruption on motorways and trunk roads, prior to setting off.

Security

The safety and security of visitors to the university is our highest priority. As a condition of entry the following procedures will be in place:

A search regime will be in place and all bags will be searched. No bag larger than a small handbag will be allowed into the building. Please do not bring large bags or suitcases to the Octagon Centre. There will be person searches on entry. Please be assured that the male and female staff conducting them are trained in person searches and will conduct them appropriately and with dignity.
We would ask that guests be patient and understand that these heightened security procedures may impact on queue times and/or the prohibition of items permitted in the Octagon Centre.
Alcohol is not permitted in the Octagon Centre and anyone who appears to be under the influence of alcohol will not be permitted entry.
Please arrive as near as possible to the published opening times. Please bear in mind that you will need to arrive, robed, at the published time for your ceremony. Graduands will be given priority access to the Octagon Centre.
A world top-100 university
We're a world top-100 university renowned for the excellence, impact and distinctiveness of our research-led learning and teaching.