Register to attend graduation
Information on eligibility and registration for postgraduate graduation ceremonies.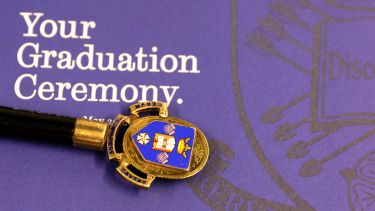 Eligibility
You are expected to register your intentions regarding your graduation ceremony (attending or graduating in absentia) before results are published. This means that in order to graduate at the ceremonies in January 2023, you must meet the following criteria:
You must have registered your intentions regarding your graduation ceremony by the deadline of Friday 18 November
You must successfully complete your programme of study
Your examination results must have been submitted to the Student Administration Service by their deadline (your department or the Student Administration Service can provide you with their deadlines)
You must have no outstanding debts to the University. See the debts information page for further details
Please note that students who do not receive the expected outcome and are awarded a Postgraduate Certificate qualification will not be eligible to attend. Students in this category will be removed from the graduation ceremony once results are received. Your certificate will be issued by the Student Administration Service and the this form needs to be completed.
---
Registration
The deadline was Friday 18 November and registration has now closed.
Cancelling your place following registration
If you have registered to attend graduation and are now unable to attend, please cancel your place as soon as possible. This gives you the opportunity to confirm the address you would like your certificate posting to. If you do not cancel your place in advance, we will not be able to send your certificate to you. 
A world top-100 university
We're a world top-100 university renowned for the excellence, impact and distinctiveness of our research-led learning and teaching.