Robe hire and gown information
If you wish to attend your ceremony it is compulsory to wear academic dress (robes, hood and hat). You should hire or purchase these directly from the official robe makers for the University, Ede & Ravenscroft.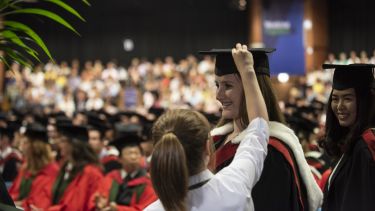 How to hire
Robe hire has closed. The deadline to hire robes was Friday 16 December 2022.
---
Cancelling your robe hire
If you cannot attend your ceremony, Ede & Ravenscroft will refund your gown hire for a small administration fee. This must be within 7 full days before the date of your ceremony.
You can cancel your order using the 'Review/Amend/Cancel' option on their website. Ede & Ravenscroft cannot accept cancellations over the telephone.
---
Robing collections
Robing is on level 4 in the Students' Union building.
9.30am ceremonies - collect 7.30am - 8.45am
12.15pm ceremonies - collect 9.15am - 11.30am
3.45pm ceremonies - collect 12.15pm - 3.00pm
---
Robe types and hood colours
View photograph examples of the different types of robes and hoods for each level of study and department here:
Academic dress examples (PDF, 743kb)
Contact details for Ede & Ravenscroft
Email: student@edeandravenscroft.co.uk
Web: www.edeandravenscroft.co.uk/graduation-services/
---
Dress code
The ceremonies are formal occasions and we recommend that candidates dress smartly. We welcome national dress and military uniforms. Jeans, t-shirts, trainers and similar casual attire are not considered appropriate for graduation ceremonies.
A world top-100 university
We're a world top-100 university renowned for the excellence, impact and distinctiveness of our research-led learning and teaching.