Ensure your name is printed and pronounced correctly on your graduation day.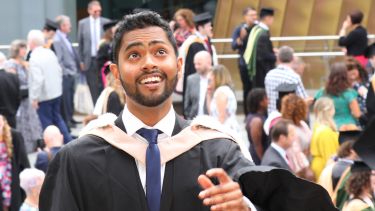 Printed name
When you open up the online registration form, your name will be shown. This is taken from your student record and will be the name printed in the graduation ceremony programme and on your certificate.
If your name is incorrect, do not register for graduation until you have had it corrected. You should contact the Student Services Information Desk (SSiD) with documentary evidence (e.g: originals of either your deed poll document, passport, birth certificate, marriage certificate) and then your student record will be amended. Only then should you register your graduation intentions. Please ensure that you register by the deadline as this date cannot be extended.
For more details on how to amend your name, please see https://students.sheffield.ac.uk/change-personal-details/name.
---
Name pronunciation
At graduation your forename and surname (as held on your student record) will be announced as you cross the platform. If you have a name that is frequently mis-pronounced, you may wish to provide guidance on how your name should be said correctly. The information you provide will then be added to the presenter's script.
You can provide guidance quickly and easily by completing a short online form here
The deadline to complete the name pronunciation form is Friday 17 June 2022.
Examples below:
| | |
| --- | --- |
| Name | Guidance notes |
| Roisin | Ro-sheen |
| Ionita | Yo-ni-tza |
| Swietochowski | Sventa-hoski |
| Grau | Rhymes with cow |
| Lishen | Lap-Sun |
A world top-100 university
We're a world top-100 university renowned for the excellence, impact and distinctiveness of our research-led learning and teaching.