Register to attend graduation
In order to attend your graduation ceremony, you must first make sure that you are eligible and that you have registered before the deadline.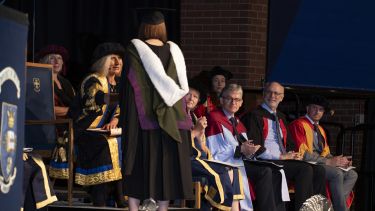 Registration for 18-22 July has closed.
Eligibility
You are expected to register your intentions regarding your graduation ceremony (attending or graduating in absentia) before results are published. This means that in order to graduate at the ceremonies in July 2022, you must meet the following criteria:
You must register your intentions regarding your graduation ceremony by the deadline.
You must successfully complete your programme of study.
Your examination results must have been submitted to the Student Administration Service by their deadline (your department or the Student Administration Service can provide you with information relating to their deadlines).
You must have no outstanding debts to the University. See the debts information page for further details.
Please complete the registration process on the assumption that you will successfully complete your studies. Receiving an email inviting you to register does not imply you have been successful; we invite all students who may successfully complete in time so they can make arrangements as far in advance as possible. You must not wait until you receive your results to register for the ceremony as it will be too late to fit you in. If, when we receive the examination results, you have not successfully completed, we will automatically remove you from the participants lists.
Only those students whose record shows that they are in their final year and have an 'Expected End Date' of June 2022 will be able to register for graduation.
Graduating in person
When you register for graduation, you will be able to apply for guest tickets and advise us of any special seating or access requirements that your party may have. The registration also serves as confirmation of your personal details (e.g: confirmation of your name as it will appear in the ceremony programme and on your certificate). For more information on your name, please refer to the Your name page.
Graduating in absentia
If you are not attending in person, the registration process will enable you to confirm your personal details (e.g: confirmation of your name as it will appear on your certificate) and to provide the address where your certificate should be posted to. You should also ensure that you have read the information relating to the postage of certificates.
University of Sheffield Careers Service
The Careers service require a personal email address to invite you to take part in a nationwide survey of recent graduates. The survey takes place approximately 15 months after graduation and the information gathered is vital in helping potential students choose which university they wish to study at. If when surveyed you do not wish to take part, you can opt out and will be removed from any further correspondence. You will see there is space on the graduation registration form for you to provide your email address.
Cancelling your place following registration
If you have registered to attend graduation and are now unable to, please ensure you cancel your place. Doing so not only allows us to remove you from the participants list and rework the seating plans, it also gives you the opportunity to confirm the address you wish to have your certificate posted to. If you do not cancel your place in advance, we will not be able to send your certificate to you, so please ensure you cancel at your earliest convenience if you can no longer attend. 
A world top-100 university
We're a world top-100 university renowned for the excellence, impact and distinctiveness of our research-led learning and teaching.