We're hosting a special day of virtual graduation activity on Tuesday 18 August for our amazing Class of 2020 students who we sadly aren't able to celebrate with in person at this time.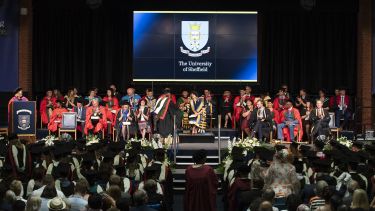 The last few months have been a challenging experience for all of us due to the coronavirus pandemic, and this sadly forced us to postpone the Summer Graduation ceremonies that were due to take place in July.  
However, we also want to make sure we celebrate the hard work and achievements of our graduating students at this time. We are delighted to confirm that the Class of 2020 will be officially conferred their University of Sheffield degrees on 18 August 2020.
We're inviting students, staff and alumni to join us on that day to celebrate the Class of 2020.
Please be assured that this does not mean that you will miss out on a formal graduation ceremony.  It is important to us that you have the opportunity to celebrate properly with your family and friends and postponed ceremonies will take place as soon as we are able to do so.
---
Virtual graduation 2020
Join us on this page at 11am on Tuesday 18 August for the premiere of our virtual graduation celebration led by President and Vice-Chancellor Professor Koen Lamberts.
We will also be: 
Publishing our Class of 2020 film - recorded remotely during lockdown with the help of some of our amazing student content creators. 
Sharing messages of congratulations and good luck from University staff, alumni and friends. 
Launching our special set of graduation filters on Instagram for you to use as part of your celebrations on the day. 
Posting our Class of 2020 Instagram Story templates and asking graduates to share their favourite memories and experiences from their time at Sheffield.  
Re-sharing photos and videos of graduates celebrating their achievements with friends and family on that day across our social media platforms. 
Please get involved and tag us in your Instagram Stories on the day, or with the hashtag #ShefUniGrad on other platforms. We would love to see how you are celebrating on the day and also to hear what your favourite memories and experiences are from your time studying in Sheffield. 
We will also be sharing and signposting departmental activity and content on the day as part of our celebrations. 
---
Gown Hire
Ede & Ravenscroft are offering the opportunity to wear your academic dress and celebrate at home: https://graduation-services.edeandravenscroft.com/academic/ 
Their offer includes:
- Delivery and return of your outfit at no additional cost
- A 50% discount on your gown hire at your postponed ceremony