UoS Knowledge Exchange project launches Facilitation Toolkit to support community video-makers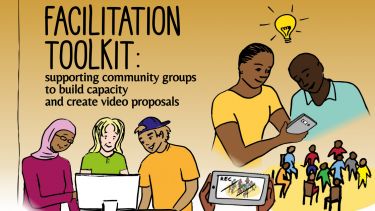 The Knowledge Exchange project Make it Grow, led by IGSD Fellows Dr Pamela Richardson and Professor Peter Jackson from the Department of Geography and based at the Institute for Sustainable Food, has launched an online toolkit to assist communities in creating their own video proposals, in order to attract start-up funds, small grants and wider network-based support.
Supported by the UKRI's Economic and Social Research Council, Make it Grow's toolkit encourages video-makers to think about lighting, sound and basic video editing before they as well as learning about project planning and pitching a proposal. 
The toolkit contains a series of carefully designed steps to support practical, collaborative learning for effective video-making. The facilitation approach endorsed by Make it Grow focuses on building supportive learning groups, celebrating creativity, seeking inclusivity, fostering self-awareness and reflexivity.
Participatory video proposals involve participants as active co-creators, generating transformative group knowledge for action and capacity building. As an alternative to written grant proposals, videos are a compelling tool to support crowdfunding campaigns, for sharing on social media platforms, or for sending directly to targeted donors. Video proposals are commonly recognised as being more informative and persuasive than their written counterpart alone, while also being more accessible and inclusive for grant applicants who may otherwise lack the required written proficiency.
The Facilitation Toolkit focuses on smartphone video-making, so that the process can be possible for any community group that has access to a smartphone and the internet.  Moreover, Make it Grow pioneered an approach to remote facilitation of online participatory videos during the Covid-19 pandemic, revealing potential for community learning and engagement across distance. This is especially valuable in the context of an increased demand for remote interaction between research partners and communities.
The project collaborated with nearly 40 different non-governmental organisations (NGOs) and community-based organisations (CBOs) in Zimbabwe, organising five online courses with different cohorts of 10-14 participants. Over 60 individuals took part over the months and 16 video proposals were completed by November 2021.
The toolkit provides resources, such as help sheets and demos, to support local facilitators to adapt the Make it Grow workshop process and ultimately enable community group members to build the skills needed to create a video proposal. It proposes a 12-session format which should take place over 6 to 12 weeks, depending on the group's availability and logistics.
The process could be condensed into an intensive 6-day workshop, but it is recommended to take time between each session, so participants have time to practice and experiment with their video-making. This also allows project ideas to be clearly thought out and agreed upon.
A project participant and Gateway Zimbabwe fellow, Mr Cosmas Sunguro from Chiadzwa Village said of Make it Grow: "The project was a real eye opener, a success in the sense that we went on to acquire skills and make videos and it didn't end there; we managed to secure some funding to kickstart our project."
An online PDF of the Make it Grow facilitation toolkit is FREE to all. Please email p.ngwenya@sheffield.ac.uk  to request a copy.
Make it Grow is currently exploring potential for scaling the project beyond Zimbabwe and is open to workshop commissions; contact Pamela Richardson to enquire about procuring a bespoke workshop series for your organisation.
Flagship institutes
The University's four flagship institutes bring together our key strengths to tackle global issues, turning interdisciplinary and translational research into real-world solutions.