Thomas Arends, BMedSci Orthoptics
"I grew up in West Lancashire, and as a child I always wanted to do something related to science when I grew up", recalls Thomas Arends, an Orthoptics student here at Sheffield.
"I always had an interest in the eye having been treated by an orthoptist when I was younger, and this interest followed me as I got older."
"When I was in year 10, I had the opportunity to spend a week on work experience. I chose to do this in a local branch of Specsavers where I had been a patient for many years", he explains. "Whilst working here, I realised that I really enjoyed working with the eye, so I researched healthcare careers related to the eye and found orthoptics. I did work experience in a couple of orthoptic clinics and knew I wanted to do it for my future career. I chose Sheffield as it appeared to be the best university for orthoptics. All the staff are very friendly and knowledgeable, and the campus was very inviting."
Hand-on, practical experience has always been Thomas' favourite aspect of studying and learning about the role of an orthoptist. "The clinical placements are the most rewarding aspect of the course", he says. "It allows you to put everything you've learned into practice. It is incredibly rewarding to know you are making a difference to people's lives."
On campus, there are a few key places that Thomas likes to spend his time. "The students' union is great for extra-curricular activities and the study spaces such as Information Commons and the Medical School Library are very good for getting work done in a relaxed and quiet environment."
"In the future, once I've graduated, I hope to become an orthoptist and a clinical tutor so I can help students on placement like other tutors have helped me. To anyone considering studying orthoptics, I recommend going on work experience in an orthoptic clinic. You will get to experience the job first hand and can make your own choice as to whether it's the right choice for you."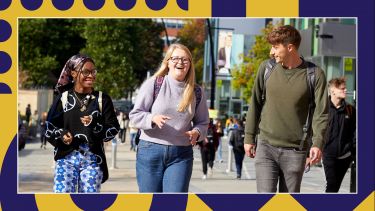 Advance Register for Clearing
We have places on our undergraduate courses this autumn. If you've already got your results you can apply now, or if you're still waiting for results get your name on the list by advance registering.