Clinical and Interactional Linguistics
Phonetics and Linguistics (including Interactional Linguistics) play a key role in the understanding of human communication and also the description, analysis and remediation of communication impairment.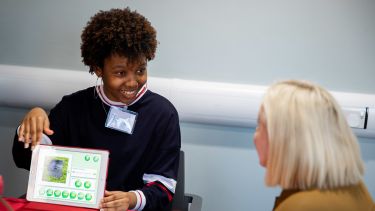 The study of linguistic aspects of communication functioning, development and disorder is also of relevance to linguistic and communication theories and our understanding of language and communication more generally.
Much of the research carried out by cluster members has an Interactional Linguistic orientation, drawing particularly on Conversation Analysis and related forms of interactional and discourse analysis. In addition to research into aspects of conversation and social interaction involving typically functioning adults or children, group members carry out work on 'atypical interaction', i.e. naturally-occurring everyday interactions involving one or more participants with a communication impairment. The Sheffield group is world-leading in this area of interactional research.
While the cluster encompasses a number of approaches, much of our work shares these features:
Use of 'real' data in natural contexts
Inductive, data-driven hypothesis formulation
Fine-grained description
Single case studies and case series design
Some of the communication impairments that are the focus of current or recent investigation include:
Autism/Aspergers Syndrome (Ray Wilkinson)
Aphasia (Traci Walker; Ray Wilkinson)
Acquired dysarthria (Ben Rutter; Ray Wilkinson)
Cleft palate (Sara Howard, Anne Harding Bell)
Developmental speech and language disorders (Sara Howard, Mick Perkins, Bill Wells)
Hearing impairment (Bill Wells)
Dementia (Ray Wilkinson)
Pragmatic impairment (Mick Perkins)
The talk of healthcare professionals (Traci Walker; Ray Wilkinson)
---
People
Academic staff
Dr Anne Harding-Bell
Dr Ben Rutter
Dr Traci Walker
Professor Ray Wilkinson (Cluster Lead)
Emeritus staff
Professor Sara Howard
Professor Mick Perkins
Professor Bill Wells
Research students
Nisreen al Awaji
Rachel Bear
Sajlia Binte Jalil
Kate Blake
Samantha Calladine
Helen Cameron
Kathryn Emerson
Emma Greenhalgh
Carla Munhoz Xavier
Nyree-Anne Nicholson
Kathryn Patrick